Canadian Whisky - Part I
Darcy O'Neil :: December 18, 2005 11:48 AM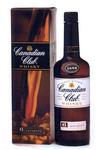 Canadian whisky has been around for a very long time and is the number one spirit imported into the United States. It currently accounts for 11.5% of spirit consumption in the US and only trails behind vodka for market share. The key reason for this is the smooth nature of Canadian whisky. For most people, drinking is a casual affair and Canadian whisky is a casual whisky. However, there is more to this spirit than meets the eye.
Here are the basics: Canadian whisky must be aged for at least three years, most are aged 6 to 8 years (Canadian Club, Seagram's VO) and double distilled. The final product is almost always a blended whisky which produces a more consistent product. The Canadian government does not place any restrictions on the mash bill, blending or distillation. Basically, they leave it to the expertise of the master blender, which is a good thing. Like Scotch, most Canadian whisky's are aged in used bourbon or sherry casks.
One common rumour is that Canadian whisky are blended with "unaged neutral grain spirits". This is false. The reality is that some of the mash is distilled to a very high proof, effectively becoming a neutral grain spirit, however it still must be aged for at least three years. This is not necessarily a bad thing since a blender requires many whisky types to choose from when making their final product.
American whiskey like Seagrams7 Crown are blended whiskey's that can use unaged neutral grain spirit for up to 80% of the product! The reason for this was that after the repeal of prohibition, there was a large vacuum for spirits that needed to be filled. Ramping up production would take some time and using neutral grain spirits and a small amount of whiskey was the fastest way to market for many US whiskey producers. Seagrams "7" Crown is a 2 year old American blended whiskey, and should not be confused with Crown Royal, which is a 10 year old Canadian whisky.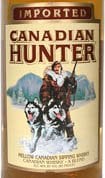 Most exported to the US is "light" Canadian Whisky. Basically, the product is manufactured in Canada for the American palette. The number one selling whisky is Canadian Mist, which is an extremely light Canadian whisky made from corn (maize). It also has a small amount of natural flavouring added. Other exported whiskies include Black Velvet, Windsor Canadian, Canadian Hunter, Lord Calvert and Rich & Rare. Many of these whiskies are not marketed in Canada surprisingly.
On a side note, the Canadian Hunter whisky label is probably the reason it is not sold in Canada. I have no idea what huskies and an Inuit hunter have anything to do with whisky.
There is a large category of aged Canadian whiskies that are sold in Canada that are aged and have outstanding quality. Some of these include:
Gibsons Finest (18 Year Old)
Gibsons Finest (12 Year Old)
Wisers Very Old (18 Year Old)
Corby's Lot 40 Pot Still
Corby's Pike Creek Double Barreled
Corby's Royal Reserve
Canadian Club founders Blend
Canadian Club (20 Year Old)
Canadian Club (15 Year Old)
Danfields Private Reserve
Forty Creek Barrel Select
Alberta Premium 100% Rye
Alberta Springs
Like all spirit categories, you will find different grades of quality. Canadian whiskies often get a bad wrap as not being complex, but I think that reflects that Canadian nature. Our whiskies are mellow, relaxed and created to be enjoyed with friends and family in a casual environment. However, there are a few expressions of Canadian whisky that would make any connoisseur happy.
In the future there will be more discussion of whisky spirits in general and if you have any questions, please feel free to ask.