Creme de Cassis may Benefit Your Mental Health
Darcy O'Neil :: January 27, 2006 10:35 AM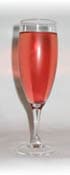 As I was browsing the Internet, I came across an article about black currants, which are used to make cassis based liqueurs and wines. In this article, it reports on a study conducted by some New Zealand researchers who found that the anti-oxidants in the black currant could prevent oxidative stress of human cell cultures. They then surmise that a range of functional products could be developed and sold for the benefits. Well, first there are product(s) that have been around since the 1600's and that of course that is Creme de Cassis. So here is some more info on this great liqueur.
Black currants are aromatic berries that can be used in many products including sorbets, jams, cordials and liqueur. It is rich in Vitamin C (7x that of an orange on a mass basis), citric acid (provides its sourness), potassium and calcium.
Black currants (Creme de Cassis) are very popular in France and Europe and is slowly making headway in North America. In the past, the French drank a cocktail called "vin blanc cassis", which loosly translates to "white wine currant." Or, as it is now know, today, as a Kir (pronounced "Keer") cocktail. Over time and because of Frances occupation in World War II, the "vin blanc cassis" was renamed the Kir, after Canon Felix Kir, a priest, and World War II resistance fighter, who was elected Mayor of Dijon in 1945. It was during his mayorship that Canon Kir exclusively served his favourite aperitif at all official receptions. Thus it became the Kir. The original recipes is as follows:
Kir
1 oz Creme de Cassis
4 oz Dry White Wine (Chilled)
Combine ingredients in a white wine glass.
The upper scale version of this drink is called a Kir Royal. The recipe for this drink is as follows:
Kir Royal
1 oz Creme de Cassis
4 oz Champagne
In France the terms Kir and Kir Royal are registered trademarks of the Lejay Lagoute company. Because of the excellent product made by this company, Canon Kir granted the exclusive rights to use his name to the only pro-mixed authentic "Vin Blanc Cassis de Dijon." The French courts upheld the trademark on the Kir name. So, this company is the only one that can produce a premixed Kir and call it Kir.
Anyway, this is a classic drink that, tastes great, and will bring a smile to anyone's face. The health benefits are only an added bonus. So what exactly did this research report? Well, the researchers looked at how the black currants acted as an anti-oxidant. Part of the aging process is that cells break down due to oxidation, i.e. in the simplest terms we basically rust and fall apart. They specifically looked at oxidative stress from hydrogen peroxide on human brain cancer cell cultures. The data, published in the Journal of the Science of Food and Agriculture showed that the anti-oxidants from the black currant protected the cells for the oxidation. This type of protective benefit is believed to have uses in the prevention of Alzheimer's disease and other oxidative diseases, such as cancer and the breakdown of DNA.
Studies have also shown concentrated blackcurrant to be an effective Monoamine oxidase inhibitor (anti-depressant)(Bormann, et al. 1993.) The quantity required is rather high so unless you eat a couple pounds of black berries a day, you may not get the effects. But overthe long term, small doses can provide benefits.
The fact that Creme de Cassis tastes great in a cocktail, and could have health benefits, makes a strong case for this drink. Remember that wine also has health benefits. So what does this all mean? Well, the first thing is that creme de cassis and black currants are healthy, and that has been know for a very long time, so nothing new there. Using cassis cordials in drinks and sipping on a glass of Kir or a Kir Royal may have beneficial long term affects to your health. You don't really need to buy expensive function foods or supplements when a sip of creme de cassis or a Kir Royal will do, also it would probably be less expensive then the supplements. At the very least, this berry liqueur tastes good and you can serve some Kir and Kir Royal's at your next party.
This drink is also the bartenders best friend, because they taste great, look classy and are easy to make. Who knew the black currant would have so many uses?
Here are some other variations of the Kir.
Kir Imperial
1 oz Creme de framboise (Raspberry liqueur)
4 oz Champagne
Combine in a champagne flute.

Kir Communard
1 oz Creme de Cassis
4 oz Red wine
Combine in a red wine glass.