Dirty Little Secret
Darcy O'Neil :: January 21, 2006 11:31 AM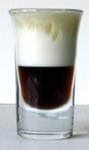 The B-52 shooter is one of the most popular shooters around. When properly made, it is elegant in its appearance and taste great. This one shoot has spawned a great number of copy cat recipes in its honour, and I am about to add another tribute to this drink. This version is called the "Dirty Little Secret" and is based on the three layer system, but the flavours are more harmonious than in the B-52 and anyone who likes vanilla would like this.
The Dirty Little Secret is made from Kahlua or any other coffee liqueur, Jagos Vanilla Cream and Navan vanilla cognac. The basic formula is equal parts of each. They are layered, from bottom up, in the following order: Kahlua, Jagos, Navan.
This Dirty Little Secret is exceptionally smooth and drinkable. The vanilla flavours are not overpowering and the Kahlua adds a nice coffee/chocolate contrast to the Jagos and Navan. The Navan provides a good bit of sweetness and the Jagos provides the creamy texture. There is a slight alcohol warmth in the finish, but not overpowering.
The Dirty Little Secret will work well as drink served over ice, or "up" in a cocktail glass or as coffee drink, just like a B-52 coffee.
I am bias about the Dirty Little Secret, as anything combined with vanilla tends to turn my crank. I have no delusions that this drink will supplant the B-52 as the shooter king, but if you get a chance to make one, give it a try. The one limiting factor about this drink is that Jagos maybe hard to find. But if you can find it. make sure you try a Dirty Little Secret and post your review here, as I'm always interested in hearing your opinion.