Mixologist: The Journal of the American Cocktail
Darcy O'Neil :: January 23, 2006 9:17 AM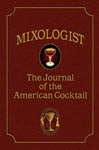 Having been a contributing author to this book, I figured I should write a little about it. The idea for the journal was born at Southern Comfort Tales of the Cocktails and was the brain child of Robert Hess, Dave Wondrich and Anistatia Miller. While having pre-dinner cocktails, this group discussed how it was time to have a forum for professional cocktail enthusiasts. The idea developed into The Journal of the American Cocktail, and requests went out for papers to be included. I submitted a paper on Simple Syrup, which doesn't sound all that exciting, but with my background in chemistry, I highlighted some things that most people would be unaware, but could affect the quality of the cocktails being made.
When the request for papers went out, I had already written my article on simple syrup, many months prior. I had sent a copy to Robert Hess (aka Drinkboy) to get his opinion and he seemed to like the idea. It was many months afterwards that Robert contacted me to see if I would like to include the article in the journal, and so I did.
The first issue was directed towards the history of cocktails. My article seemed like the odd duck, but I have received a lot of correspondence stating that people enjoyed the article. Anyway, the journal was published in April 2005 and had a total of 11 authors. The topics that were written about include:
A Brief History of Punch by David Wondrich
The Rise and Fall of the Martini by Robert Hess
History and Character of the Gimlet by Paul Clarke
The Genealogy and Mythology of the Singapore Sling by Ted "Dr. Cocktail" Haigh
The Bellini by Lowell Edmunds
If You Like Piña Coladas by Jared Brown
Antoine Amedee Peychaud by Phil Greene
Down to the Sea in Ships by Anistatia Miller
The Definitive Guide to Simple Syrup by Darcy O'Neil
Twenty-First Century Cocktails by Audrey Saunders
The Long and Winding Road by Gary Regan
For the most part the articles take a look at the history of the cocktail and how it came into existence. Many of the authors in the journal are accomplished writers and if you combined all of their writings on cocktails, you would have a great library.
The next issue of Mixologist: The Journal of the American Cocktail is tentatively scheduled to be published in April 2006. I have submitted an article discussing Sour Mix, but I have not been notified if it meets the editorial guidelines for this issue. If not, the article will be published here for your reading pleasure.
If you would like a copy of Mixologist: The Journal of the American Cocktail, you can visit http://www.mixellany.com/ or any of the major online bookstores to order a copy.