Danfields Private Reserve
Darcy O'Neil :: February 6, 2006 12:48 PM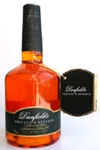 There is a new kid on the block in the Canadian whisky world. At least where I'm from Danfield's Private Reserve is new. This Canadian whisky is made in Alberta, a province with vast fields of rye and other grains and pure rocky mountain water and massive oil reserves. So, it's not a bad place to begin to make a whisky. Other spirits made in Alberta include Black Velvet and Pearl vodka. This is a first impression review, and over time my opinion may change, so let us see what Danfield's whisky has to offer.
Danfield's is a blended whisky made from only rye, corn and malted barely. Each batch is made from less than 100 barrels using a small batch process. Basically, this spirit is hand-crafted. The company uses a term, "Blended at Birth", to describe their proprietary process for making the whisky. Obviously, since it is secret we don't know what this process involves, but another Canadian whisky, Canadian Club, is blended prior to aging, so this may be similar. Again, just speculation. There is no age statement on the bottle so it could be a three year or older whisky.
The product is distilled using a "triple filter process", which I have no idea what this entails. Most Canadian whiskies are column distilled, but a growing number are pot distilled (Forty Creek, Pike Creek and Lot 40 among others). The spirit is then aged in white oak barrels, the char levels are not given, but one can assume that there is some amount of charring. Danfield's is then "diamond filtered" just prior to bottling polished the product. The state that it helps to assure smoothness and drinkability.
Danfields Canadian whisky is made in Lethbridge, Alberta which is home to the Black Velvet Distilling company. I'm not sure if there is any relationship with the maker of this product (Williams & Churchill Ltd.) but, the distributor is Churchill Cellars.
Now, a lot of this is just marketing speak, but the true test is just to buy some and give it a taste. So of course I went out and spent the $23.95 on a bottle to see whether this is good stuff.
The spirit is a deep golden colour. The first impression was a sharp nose and you could definitely smell some of the corn and malted barely. After a few swirls of the glass, the rye became more apparent. After a few minutes, the rye became more dominant to the nose and some chocolate aromas came out.
The first taste came with a bit of a bite and it was more dry than other Canadian whiskies. The finish was peppery with a long rye finish. For comparison I poured a small amount of Crown Royal Special Reserve. Danfield's is drier than the Crown Royal and doesn't have the nose that Crown Royal does. Crown Royal also finishes smoother, but the price is almost twice as much, so you would hope that it would be smooth.
Danfield's Private Reserve has more flavour than many Canadian whiskies, and definitely has more rye bite. The dryness would make for a good Manhattan. So far I've only had one ounce of this whisky, but I will have to experiment with it more to get a true feel for it. Forty Creek Barrel Select is still my top choice for a Canadian whisky. I'm sure I will have more comments in the coming weeks and months on Danfield's Private Reserve.