Dooley's Toffee Cream
Darcy O'Neil :: February 5, 2006 11:08 AM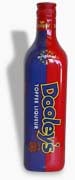 Just over a week ago I received an email from Pam Jarret, of Behn of North America, the distributor of Dooley's Toffee Cream, asking if I would like to review Dooley's. Many times when I've walked through the local liquor store, I've seen the colourful red and blue bottle jumping out at me from the shelf, but not once did I buy a bottle. This email gave me a reason to pick one up and so I did. On the way home I dropped the first bottle in my driveway, so now it smells really nice out there, but then I had to go buy a second bottle. The second one made it home safely. The Dooley's has been sampled and mixed and here is what I think.
As I had said, prior to the email I had no idea what Dooley's was. After a little research, it became clear that this was a vodka based cream liquor, similar to Bailey's Irish Cream and Jagos Vanilla Vodka cream. Now I personally like whisky and rum, but I will gladly drink cream liqueurs when offered or when I need something dessert like to satisfy my sweet tooth.
Once the bottle was safely home, I cracked it open and the first thing that hit me was the wonderful toffee aroma emanating from the bottle. So I poured a shot into glass and sipped it neat. Then I poured a shot of Bailey's Irish Cream into another glass for comparison.
Obviously the aroma of the Dooley's was impressive, and even more so compared to Bailey's. Now, I'm aware that Bailey's is made with Irish whiskey, but my wife is not much of a drinker, but she could easily identify which was which, just by nosing the glass. She preferred the Dooley's aroma.
When tasting the Dooley's, it is very smooth with no bite and a slight alcohol warmth in the back of your throat. Bailey's has more whisky burn, when you drink it neat. Now, I like the little burning sensation, but many people don't. The flavour is pleasantly bold and is comprised of caramel / toffee, chocolate, cream with vanilla coming through. The finish is smooth and buttery. This liqueur is sweet like a dessert.
Now this liqueur isn't going to replace my whisky, rum and other liquors, but it is going to replace Bailey's on my daily list. After a big dinner, a double of Dooley's or a Milky Way Martini could replace a dessert and still be satisfying. But, if you want a dessert, I've included a recipe for Dooley's Toffee Liqueur Cheesecake supplied to me by Pam.
If you have never tried Dooley's, like me, I would highly recommend it.
Milky Way Martini
2 ½ oz. Dooley's Toffee Liqueur
1 oz. Godiva Dark Chocolate Liqueur
½ oz. Vodka
Shake well over ice and strain into chilled glass

Dooley's Toffee Liqueur Cheesecake
Ingredients:
15 chocolate graham crackers, crushed
3 tablespoons butter, melted
4 (8 ounce) packages cream cheese
1 1/2 cups white sugar
3/4 cup DOOLEY'S TOFFEE LIQUEUR
4 eggs
1 cup sour cream
1 tablespoon vanilla extract
1/4 cup all-purpose flour
1 package Heath Bar crunch bits
Directions:
1. Preheat oven to 350 degrees F (175 degrees C). Grease a 9 inch springform pan.
2. In a medium bowl, mix graham cracker crumbs with melted butter. Press onto bottom of springform pan.
3. In a large bowl, mix cream cheese with sugar until smooth. Blend in Dooley's, and then mix in the eggs one at a time, mixing just enough to incorporate. Mix in sour cream, vanilla and flour until smooth. Pour filling into prepared crust.
4. Bake in preheated oven for 1 hour. Turn the oven off, and let cake cool in oven with the door closed for 5 to 6 hours; this prevents cracking. Sprinkle Health Bar crunch on top and press into sides of cake. Drizzle some extra Dooley's lightly over top! Chill in refrigerator until serving.
Cheesecake hints:
Bring all ingredients to room temperature before mixing
Don't over mix
Bake cheesecake in a water bath for best results and no cracking: cover bottom and a bit up the side of cheesecake pan with tin foil. Set cheesecake inside a roasting pan on the oven rack, then pour boiling water into the roasting pan until the water is at least halfway up the sides of the cheesecake pan. Allows at least 2 inches of space between the edge of the cheesecake pan and the edge of the roasting pan.
Don't over bake: middle will not be fully cooked when you turn the oven off but will bake through while at rest in oven.