Buying Bordeaux Futures
Darcy O'Neil :: March 13, 2006 6:48 PM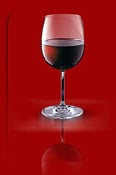 Every year, in the months of March and April, a stock market like event occurs in the Bordeaux region of France. This is of course the time to buy your Bordeaux wine futures. So what exactly is a wine future? Well, in simple terms it is an investment. You are buying wine in the very early stages of development in the hopes that it will gain in value over time. That value can be cold hard cash, if you decide to resell the wine. Or it can be for personal enjoyment, and as the wine ages it will turn out to be a magnificent vintage. How do you get involved, and what are the things you should know? I'll give a brief rundown, but remember, if you truly enjoy wine, there isn't much of a downside.
Every year, a few months after the wine harvest, a the tasting event begins. Hundreds of wine journalists descend on the Bordeaux region of France, to taste the latest vintage. Based on their early reviews of the wines, still aging in their oak barrels, the prices will be set by the Chateau's. The pricing is based on a number of factors, including the growing conditions (sunshine, precipitation, temperature, etc.) and the professional wine reviewers opinion. Again, these wines are being tasted very early on, and the flavour will change, sometimes dramatically, over the next year.
To purchase Bordeaux futures you need to contact a wine merchant. In Ontario it is very easy since the LCBO publishes a list of wines being offered, and the order forms are online. You simply pick what you want, send in the form with your payment and wait. Yep, since the wine is still aging, you will need to wait about a year, or more, to get those bottles. Hopefully, when you get your bottles, the market value will have gone up. Sometimes, the market price is the same as when you purchased the futures.
Basically, purchasing futures allows you to either buy great wine at a reduced purchase cost, or make it an investment and at some point attempt to resell the purchased bottles to a collector. If you have your own wine cellar, and avidly enjoy wine, then futures are a pretty good option for you, since they can save you some serious coin of great vintages. If you don't really drink wine, then Bordeaux futures may not be to your liking as an investment option. But, sometimes the value of these bottles can go up 200% in a couple of years, and then keep climbing.
The problem is that you are buying something that will be realized in the future. No one can say for sure whether a particular wine will be spectacular in 10 or 15 years. Wine experts have a general idea, but there are so many variables that this is still an investment with risk. Certain wine critics have powerful influence over the Bordeaux pricing. Based on their opinion, they can make or break a particular Chateau. Wine critics, like Robert Parker, have this particular power and it causes some Chateau's to produce what is referred to as a "Parker sample." This is wine taken from only the best barrels and presented to the journalists and critics. Hopefully, this is a very rare practice, but money makes people do strange things.
Overall, Bordeaux futures are a good idea for anyone who collects wine. As for an investment tool, it is hit and miss or "use at your own risk".