Johnnie Walker Blue Label
Darcy O'Neil :: March 10, 2006 9:34 AM

This is one of those spirits that either gets rave reviews or boo's and hisses. Some people think that the price point of Blue Label is a rip off, while others see that it represents something more than just the liquid in the bottle. It is true that Johnnie Walker Blue Label is a blended scotch, which automatically nix's this spirit from single malt snobs list of drinkable scotch. That's fine, too each their own, I say. But, if you keep an open mind, you might see more to this scotch than the price and grain spirit. Let's take a look at this from a neutral aspect and see if there really is value to this scotch.
I will admit now, that I do own a bottle of Blue Label and have sipped it many times. Prior to my entry into the bartending world, I was just a normal consumer with no experience in the unique world of scotch. When I became engaged, and started planning the wedding, I wanted it to be a great celebration, so I decided I'd buy a great bottle of scotch to make the moment memorable. In my quest for scotch, I realized that there were so many varieties and styles that I had no idea of where to start. However, I was aware of Johnnie Walker Red Label and had often seen the Black and Gold labels at the liquor store, each with an increase in price. So, I looked into Gold Label and came across a reference to Blue Label. As I did my research, Blue Label was represented as an epic scotch. I then went to Whisky Magazine and looked up the review on Blue Label. Michael Jackson gave it a 9¼ and described it as 'a lovely, luxurious whisky'. Meanwhile Dave Broom gave it a 9. It also was given the Editors Choice award. How could I argue with two whisky experts, Blue Label was my choice, even at $200 for the bottle.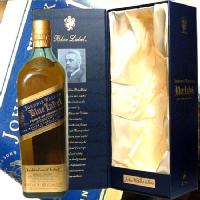 At the heart of Blue Label is Royal Lochnagar, a rare malt distilled near Balmoral, the Queen's holiday home. Around 15 other mature and precious whiskies are added to balance Blue Label. On the nose Blue Label is exceptionally smooth, even if you take a very deep inhale, there is no harsh alcohol burn. There is a subtle aroma of smoke, tobacco and peat with a slight sweetness, almost fruity, that is quite enjoyable. On tasting you get a good shot of smoke with a little astringency and some good warmth in the mouth. The scotch clings to your tongue and the peatiness comes out with hints of bitterness, like bittersweet chocolate. There is a background of malt and after a minute the flavours still linger pleasantly on your tongue. It is a great scotch if you just appreciate it, as is. If you sit there, while tasting it, thinking to yourself "dam, this has grain spirits in it, this sucks" then you have already convinced yourself that Blue Label is not your thing. A good attitude will help when tasting anything, including food, wine or spirits.
A large part of buying Blue Label is that it represents more than just a fine scotch. I believe that the majority of people who buy this product are trying to impress someone. It can be given as the ultimate Christmas gift or served when entertaining. Sometimes, it is a sign of prosperity or self importance. Some people just like to buy the best, and Blue Label represents the perceived best, even though this may be through marketing efforts. It works for Grey Goose, and a couple dozen other premium vodkas. This attitude is no different than a malt snob huffing, in contempt, that they don't drink blends.
I like to make the parallel of a fine restaurant. A steak in a high end restaurant is generally no different than a steak at "Bob's Cookhouse." The steak, if graded triple AAA is going to cost about the same and be of good quality. Sure, a high class restaurant can order "special cows", but in reality, beef is beef and steak is steak. The main difference is the presentation and atmosphere. I can have a great steak at Bob's steakhouse, but sometimes you want a steak where you can impress someone or enjoy a different atmosphere. It's the tables, location, perks and attitude that you are paying for. Basically, marketing is the difference between a $12 AAA streak and a $35 AAA steak. Same goes for the Blue Label. You are paying the extra because Johnnie Walker markets their product to a high end consumer. They are doing the ground work to make the product special, so that if you do give it as a gift or share it with friends, your friends will know that you are being generous and kind. Most people couldn't tell the difference between a great scotch and a bad scotch to tell you the truth. As a bartender, I have managers who think that Johnnie Walker Red Label is a premium scotch.
At the end of the day, when you buy scotch, you are buying the rental fee for the aging process and the expertise of the master blender. When you buy Blue Label, you are paying for the crafting, along with the marketing. People purchase Blue Label because it represents an easily identifiable premium scotch. When I bought this scotch, that was my impression. However, I wasn't tainted by the opinion of people who said that it was over rated. My first impression was that this actually tasted pretty good for a scotch. I enjoyed it, my friends enjoyed it, even if they didn't like the taste, but they appreciated that I was trying to provide them with the best I could offer. This has value that many scotches just don't have.