Lochan Ora vs Drambuie
Darcy O'Neil :: March 4, 2006 7:42 PM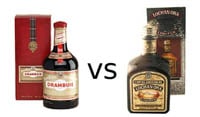 After doing a review of Lochan Ora, I decided I should compare it to the mainstay Scotch liqueur, Drambuie. With a quick trip to the liquor store to pick up a bottle of Drambuie, I sat down and did a head to head comparison. In my previous Lochan Ora post, it was brought up that Lochan Ora may be out of production. If anyone can verify this, please post a comment or email me and let me know. If no-one knows I'll make a couple of phone calls to see if this is true. In Ontario, there is still a good number of bottles at local LCBO stores.
Appearance wise, both these liqueurs look about the same. They are pale golden in colour. The Lochan Ora is more viscous than the Drambuie, which is probably caused by the amount of sugar (from honey) in the liqueur.
When nosing the glasses, Lochan Ora definitely smells more scotch like than Drambuie. There is a strong alcohol nose from the Drambuie (40%) and it has herbal notes, especially mint, with a slight hint of whisky. The Lochan Ora (35%) doesn't have the alcohol nose, partially because of the lower alcohol level. However, it does have a sweet, smoky nose with and hints of herbs and flowers. It is quite soft compared to the Drambuie.
When it comes down to taste, the Drambuie starts of with some heat and sweetness and once that clears you get the flavour of honey and a mixture of herbs followed by a licorice after taste. Again, the Drambuie doesn't express a lot of scotch character.
The Lochan Ora starts off soft with a slight amount of alcohol and more sweetness than the Drambuie. There is a stronger scotch character to this liqueur, and you can definitely get the smokiness and wood flavours. The finish is warm with subtle herbs and a woody after taste.
Sometimes with very sweet liqueurs my palate doesn't discern subtle flavours very well, that's when I recruit my wife. She is as far away from a scotch drinker as you can get. Strawberry zinfandel is more to her liking, but she did like the fig flavour vodka. Anyway, I gave her samples of both liqueurs to try, with some palate cleansing mineral water for in between tastings.
Well, she was very helpful and decisive about the herbal notes she was getting from nosing the glass. As for the tasting, it was like giving a three year old a spoonful of cough syrup! The faces she made were quite entertaining, but she made it through and identified some flavours that I missed at first, but once she picked them out, I found them also.
In the end, I prefer the Lochan Ora. It is smoother and has more scotch characteristics. The only time I drink this liqueur is in a Rusty Nail, and Lochan Ora just makes a better Rusty Nail. I think the scotch flavours compliment a good scotch, better than the herbal flavour found in Drambuie. If Drambuie Black Ribbon becomes available in my parts, I will revisit this comparison.