Moxie's Big Life Euro
Darcy O'Neil :: March 26, 2006 10:30 AM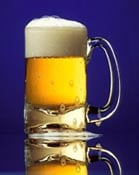 Where I work, Moxie's, they have two house beers, that are only available at Moxie's restaurants, on draught. They are Big Life Euro and Big Life Amber. These two beers are brewed by Big Rock Brewery in western Canada, who also make Grasshopper Wheat Ale and a number of other standard beers like pale ale and lager and a traditional ale. Since Moxie's restaurants are poping up all over the place, I figured it was time to take a look at their house beers and see if they lived up to the claims they make about them.
Moxie's states that Big Life Euro is a premium lager, brew in the Pilsner style, that is aged for 21 days. They use pure mountain spring water and Saaz hopes in the brewing process. Moxie's describes it as tasting similar to Stella. Customers don't necessarily agree, and I'm not a Stella fan, but the general consensus is that the beers is very smooth and flavourful, and our customers really like it. What more could the average Joe ask for?
When I tried Big Life Euro I found it very smooth, maybe a little too smooth for my palate. It has those characteristic lager flavours and mouth feel but it doesn't have a big hop flavour, so it has very little of that bitter bite. Don't get me wrong, it does have flavour, but it seems they roast the barley, or something, to give the beer a kind of nuttiness. Whatever process they use it does create a very smooth beer with more barley flavour than hop. When you pour a pint, it creates a nice stable head and actually looks quite nice the straight wall pint glasses.
I drink all sorts of beer and I like it to be slightly bitter, I think that's what gives beer a refreshing quality. But, many people like their beer smooth, hence why Budweiser is one of the top selling beers. I consider Stella Artois to be kind of like a "Euro Bud," and I know that true Budweiser is of Czech origin ("Budvar"), but what I'm basically saying is that these types of beers are trying to be approachable and easy going. They are mass market beers. Big Life Euro goes one step above Bud and Stella and brings more flavour to the mix. This seems to have worked, since I can't count how many times I've heard customers state that this is the best beer in the city, and the city I live in is the home of Labatt's.
Overall, Big Life Euro is an enjoyable, easy drinking beer. In a week or two I'll try the Big Life Amber and see how it rates.