Steam Whistle Pilsner
Darcy O'Neil :: April 17, 2006 8:41 PM

Hands down, my favourite beer. Now don't get me wrong, I appreciate many beers but there is something about Steam Whistle that makes me loyal. The company does things right. They focus on making one great product, and if you are saying that one products can't make a successful company, just look at Heineken. They have a great image and brand. It reflects a more simple time period and doesn't depend on the tried and true scantily clad girls to make their product popular with guy's. Then there is the beer. It's clean and crisp with flavour, it's not a watered down mess, nor is it a strong and overly hoped beer, just for the sake of it. It has balance.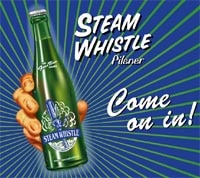 The first time I purchased a 12 pack of Steam Whistle, it had caught my eye because of the simple bright green packaging. It kind of reminded me of old gas station advertising from the 1950's. When I got home I was surprised to find that they don't use twist off caps. Later I found out that they use crimp camps to make a better seal with the bottle and ensure a better product. The bottles were also green glass with no paper labels on the bottle. The bottles also seemed heavy for their size. Basically, the product felt substantial, like they put some effort into it. Sometimes, the plain brown bottles get so boring.
When I poured the beer it created a thick, stable, white head. The beer smelled good and tasted better. It is a very crisp taste, with some decent hop bitterness, but not overpowering. The beer has a clean malty flavour that leaves a slight nutty aftertaste. The beer is best served ice cold, which is great on hot summer days.
Since this beer quickly became my new favourite (it replaced Moosehead Pale Ale) I found out that it was made in Toronto, only a couple hours from where I live. They also had brewery tours, and being so close, there was no reason not to go. The brewery is in an old train roundhouse. Basically, many years ago, these round houses were used to repair trains, in very horrible work conditions. Anyway, this is one of the last remaining roundhouses in the country and has had a significant amount of work done to preserve it. When you enter the Steam Whistle brewery, the first thing you see is a bar, where they serve Steam Whistle Pilsner. A cool demo was when the tour guide poured a 4oz glass of beer and stood a pen straight up in the glass of beer, it was held in place by the 1 inch head on the beer. While waiting for the tour to begin, you can sip on super fresh pint. The beer does taste better at the brewery.
In our tour group there were about 15 to 20 people. The person doing the tour was an excellent tour guide and very knowledgeable, friendly and funny, which is good because it made my wife happy. After going through why they do things the way they do, we all reassembled in the main hall and had a free pint of Steam Whistle. What better way to end a tour. One of the cool things is that at the brewery they have rooms / halls you can rent for parties and other events. The one room hold up to 800 people. Planning a wedding? You might want to check with your fiancee first, but the brewery will host your wedding.
Anyway, if you get a chance to try steam Whistle, do so, you won't be disappointed. They are a very down to earth company and make one great beer.