Malted Milk Cocktail
Darcy O'Neil :: May 2, 2006 8:39 PM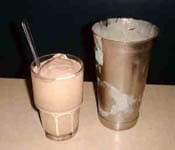 Many years ago there were mysterious places called "malt shops" that served burgers, sundae's and milkshakes made with malted milk powder. If you were born in the 70's, like me, or later, it is unlikely that you have ever encountered a malted milkshake. I personally have never been to a malt shop, nor have I had a malted milkshake at a restaurant. Today it is very hard to find one of these really tasty creations, and Nestle, the maker of malted milk powder, has seen decline in the sales of its malted milk powder. The only reason I know what these shakes taste like is because I've eaten Maltesers (Woppers in the US). If you have never tried one, or you now have a craving for one, they are relatively easy to make and the ingredients are readily available. I've even decided to give this pop culture icon a little kick and now it qualifies as a cocktail.
Malted milk powder was invented by James and William Horlick in 1873 as an infant food. Over the next few years they continuously developed the formula and eventually added powdered milk. They called this product "Diastoid"
"Can I get a burger, side of fries and a diastoid shake please. "
Doesn't sound great, but luckily they renamed the product to "malted milk" Originally, this product was for infants and invalids, but because malted milk tasted good, everyone started drinking it. Eventually it became available at soda fountains across the US and eventually resulted in the renaming of these soda fountains to malt shops.
If you go to your local megamart it is unlikely that you will find malted milk powder, it seems it's just not as popular as it once was. Whole businesses were based on this drink, and now you'll probably only find it in some retro 50's restaurant. That's too bad because a malted milkshake tastes really good. But there is a simple solution, make your own from scratch. To do this you will need to hit your local homebrew company and pick up a package of light dry malt powder/extract. This is usually made to brew light beers in the class of Coors Light, etc. and can be purchased for around $5 per pound. Don't pick up dark or medium body malt powder, the taste will be to heavy for a malted milkshake. The only other thing you will need is some milk and maybe a dash of simple syrup.
Here's a quick recipe you can share with your kids, the adult formulation follows.
Malted Milk Shake
I Cup Milk (2%)
1 Tbls Light Dry Malt Powder
1 tsp Simple Syrup (2:1)*
Combine ingredients into mixing cup and blend with a hand blender, or shake vigorously in a boston shaker. Pour into glass and serve.
* a teaspoon of sugar will work also
You can also substitute a scoop of vanilla ice cream for ½ of the milk. This will make it a real milkshake!
Now to make this a cocktail, add 1½ oz of your favourite cream liqueur. Bailey's works well, but Amarula Cream works really well as does Dooley's Toffee Cream and Jagos Vanilla vodka. Ice cream is optional.
This is one of those drinks that will remind you of times gone by. This is a historical drink as much as the first Manhattan or Martinez cocktail are. So go out, get your ingredients and mix one up, you won't be disappointed.