Amarula Cream
Darcy O'Neil :: August 16, 2006 8:24 PM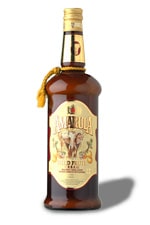 One of the trends in liqueurs is the cream based liqueur. We have the CEO of cream liqueurs, Bailey's Irish Cream, and then there are the multiple Irish cream clones including Bushmills, Carolans, O'Casey's, and O'Darby's, among others. Then we have the flavoured creams like
Jago's Vanilla Cream
and
Dooley's Toffee cream
, both good products with lots of flavour. Also there are tequila cream liqueurs, like Baja Rosa and Tequila Rose and the not so common rum cream. Basically, cream liqueurs are quite popular and Amarula cream is another one that should be looked at and tasted. This African liqueur comes from the fruit of the Marula tree, sometimes referred to as the elephant tree. Basically, the fruit has a unique flavour that most wild life, including elephants and humans, enjoy. In Canada Amarula Cream has been available for many years, but it is still being introduced to some markets.
The flavour of Amarula Cream is remotely similar to Irish cream but is more butterscotch like with fruit and a slightly spicy finish. The subtle fruitiness is what makes Amarula Cream unique and differentiates it from the other cream liqueurs. Amarula cream could be used in a lot of cocktails that Irish cream is used in.
The taste is very pleasant and makes a great digestif. It can be easily used as a substitute for Irish cream in most cocktails. Amarula Cream is best served over ice.