Blueberry, Basil and Rum Cocktail
Darcy O'Neil :: August 6, 2006 12:46 PM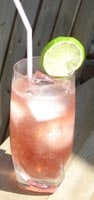 With blueberry season in full swing it was time to make a blueberry cocktail. Inspiration can be hard to come by at times, but eventually you come across something related and that can inspire a cocktail. Hence, I was browsing some of the many blogs I read, and went to a culinary weblog called Sweet Pleasure. One of the posts included a recipe for Blueberry Basil Sorbet, which sounded quite good to me. But, being a bartender, a cocktail needed to be created to harness this unique flavour combination.
Blueberries can be hard to work with in cocktails because they have a lot of flavour, they turn everything reddish blue and have annoying little seeds. Aside from that, they are great. The trick is getting something that compliments the flavour of blueberries, and basil seems to be a great herb. It's moderately flavourful and compliments fruits really well.

On a side note, for a long period of time cocktails seem to have been all about sugar, but recently I've seen a trend where savoury drinks are becoming more popular with bartenders. The Caesar has always been popular in Canada, but aside from that I can't really think of many other savoury, herb based drinks that are popular. I think basil is one of the herbs that will usher in some new herb based cocktails.

Anyway, since Sam at Sweet Pleasure did a lot of the leg work, I just need to balance out the cocktail. First, I selected Appleton VX rum because rum has a lot of flavour and would compliment the blueberries, plus it is summer and rum is, for me anyway, a good summer spirit. Usually when I make a cocktail, I want the spirit to be part of the drink, just not in the background like vodka, so rum meets this requirement also. Next blueberries and basil were obvious. A little sugar was need to balance the drink, so I used raw plantation sugar, not brown sugar. If you can't get raw sugar just use white table sugar because brown sugar has too much molasses in it and will overpower the drink. I decided to use a little mint in the drink, probably because I've been making so many mojito's. But mint goes well with basil, so why not. Finally a squeeze of lime to bring some acid to the mixture. With it being summer, club soda was added to make the drink a little lighter and more refreshing.

Blueberry Basil Cockail

1.5 oz Appleton VX Rum
1 tsp Raw Sugar
12-16 Blueberries
10 Basil Leaves
4 Mint Leaves
½ Lime
Top Soda Water

Muddle basil, mint, sugar and lime juice in base of a shaker glass. Add blueberries and continue to muddle. Add rum and ice and shake. Fill collins glass with ice and strain muddled rum mixture into the glass and top with club soda. Garnish with a lime.

This drink turned out quite nice. I found that the blueberry variety I picked (Reka) made the drink pinkish instead of blue, but you could still taste the berry. The basil provided a nice balance and the mint added some refreshment. Overall a good drink and I would happily serve this to any of my quests at the bar.