Mojito & Bitters, Final Verdict
Darcy O'Neil :: August 4, 2006 12:39 AM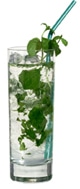 Last week I discussed the Mojito and how it is traditionally made in Cuba.
Jamie Boudreau
posted a good question in the comment in section, inquiring whether bitters is actually included in a mojito. Tonight, Felix, the Cuban bartender, came to Mint for dinner, so I had an opportunity to follow up with him, regarding this little issue. After making him a mojito, sans the bitters, I asked him if they used bitters in mojito's in Cuba. His answer was no, they do not. The mojito is made with lime, sugar, mint, rum, ice and soda water and nothing else. Somewhere in Cuba a bartender is adding bitters I'm sure, but as far as I'm concerned there are no bitters in a
classic Cuban Mojito
. I hope this helps.