Mixology Monday: Royal Punch
Darcy O'Neil :: October 16, 2006 6:18 PM
For this edition of Mixology Monday, being hosted by Meeta at "What's For Lunch, Honey?" so I decided to look back at some of Jerry Thomas' recipes for an exotic cocktail. First, I started looking for something with Arrack in it, because it just happens that I picked up a bottle of this liquor a couple of months back. Arrack is fairly exotic liquor made from the sap of a coconut flower and important from Sri Lanka. Arrack has a fruity amber rum like flavour and is used in a bunch of Jerry Thomas' recipes. So after a quick browse through "How to Mix Drinks" I came upon Royal Punch which is exotic, tiki like, and has the alcohol content that would make Trade Vic happy. The best part is that is uses calves foot jelly! Now I just need to find a cow.
The Royal Punch is a perfect cocktail for all those modern molecular mixologists, because this is one interesting and exotic drink from 1862. Mr. Jerry Thomas was working with exotic ingredients back in 1862 including warm calf's foot jelly, which is basically gelatin. The trick was to give the drink some "body" (viscosity) with the jelly which in turned rounded off the edges on some flavours. Basically, the gelatin coats one's palate and interferes with some flavours or lengthens others. These affects are ok though, especially if the flavours are exceptionally strong.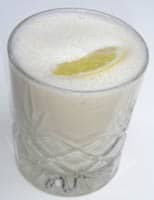 The Original Royal Punch Recipe

(For a small party.)
Take 1 pint of hot green tea.
½ pint of brandy.
½ pint of Jamaica rum.
1 wine-glass of Curacoa.
1 wine-glass of Arrack.
Juice of two limes.
A slice of lemon.
White sugar to taste.
1 gill of warm calf's foot jelly.

To be drunk as hot as possible. This is a composition worthy of a king, and the materials are admirably blended; the inebriating effects of the spirits being deadened by the tea, whilst the jelly softens the mixture, and destroys the acrimony of the acid and sugar. The whites of a couple of eggs well beat up to a froth, may be substituted for the jelly where that is not at hand. If the punch is too strong, add more green tea to taste.

For Mixology Monday I decided to slightly modify the Royal Punch recipe. First, there doesn't seem to be a ready supply of calves foot around, so I'll be using egg whites. Second, I'm going to make a hot and cold version of this drink because I think the cold version may taste decent. Serving it hot might not be as appealing to a modern generation of cocktail enthusiasts, but by all means try it, I will be.

Royal Punch (v.2006)

2 oz Green Tea (cold)
1 oz Brandy
1 oz Jamaican Rum
½ oz Curacoa
½ oz Arrack
¼ Lime (juiced)
½ Egg White
Dash Simple Syrup
Slice of Lemon

Hot Version: In a pot bring water to a boil and add green tea, let steep for 10 minutes. Combine brandy, rum, curacoa, arrack, lime juice and simple syrup in a small glass and place in a bowl of hot water to warm ingredients gently. Beat egg white until it forms soft peaks. Slowly pour hot tea, while whipping the egg whites, otherwise you will get scrambled eggs. After the tea and egg are combined, continue beating and add the other ingredients. If you want to make the drink as hot as possible, use a "bain marie (double boiler)". Pour into glass. Garnish with lemon slice.

Cold Version: Make tea as above and allow to cool to room temperature. Combine all ingredients into shaker and shake vigorously for approximately one minute to froth the egg white. Pour into glass and garnish with lemon slice.

The Verdict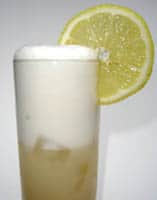 The cold version is basically frothy green tea with a good kick. The frothy part is nice and makes a good drink with the subtle green tea flavour. The alcohol adds a good kick and the lime and sugar balance it all out. The problem though is that the egg foam separates, so the bottom half of the drink is rather watery and not too exciting. Because this drink uses a large volume of liquid, with no emulsifying fat (like a Ramos Gin Fizz), the drink cold version of this cocktail separates fairly quickly. So, it's probably not a very feasible drink, because it can't hold itself together.

The hot version is something interesting. If you like drinking rum hot off the still then you might like this drink. I made this drink over a double boiler, with a stick blender, so it was served warm, about 45ÌŠC (112ÌŠC) It was hot and immediately drinkable, but wouldn't scorch your mouth. The egg whites created a beautiful foam, kind of like a soft meringue, and as I added ingredients it maintained it's foaminess. Once everything was combined and "as hot as possible" I poured it into a glass. Even before it hit my lips my nose knew what this drink was going to be like, hot alcohol. I had figured on this before I even embarked on the Royal Punch's creation. You just need to look at the ingredients to realize this is a strong drink and adding heat to it will only cause the alcohol to vaporize and overwhelm your senses, and that it did. The modern palate just isn't meant for this drink.

So what did I learn? Well, the use of green tea in a cocktail is noble, but the Royal punch maybe too exotic for most peoples tastes. When you make a cold drink with egg whites, it helps if you have an emulsifying fat. Finally, all of this experimenting didn't go to waste, because the idea of green tea in a cocktail intrigues me. Also, the combination of spirit, egg white, green tea and an emulsifying fat, like heavy cream, might just make a good cocktail. We'll just to give it a shot.

Arrack: A spirit distilled from fermented palm sap. It is similar in flavour to amber rum if arrack is not available.