Mx Monday: Canadian Coffee
Darcy O'Neil :: January 15, 2007 9:51 PM

Well it is that time of the month again, I mean it's time for Mixology Monday. This month Imbibe Unfiltered is our host and it is all about Winter Warmers, those drinks that warm you up on a cold winter day. Some days a fine cognac will do the job, other days hot chocolate spiked with something works, and if all else fails, a specialty coffee will warm the coldest soul. When you need to warm up, or if you just like spiked coffee, then there are a lot of choices, but for me, I enjoy a good Canadian Coffee. But it can't just be two scoops of instant coffee plus the Canadian whisky, maple syrup and squirt of whipped cream, that would be mediocre. A good cup of coffee needs some love to really get what you deserve.

The basic idea of an "international specialty coffee" is to apply some indigenous ingredient to a cup of coffee. The most obvious one is Irish coffee which uses Irish whiskey, sugar and cream. Others include a Spanish coffee, which really isn't all that Spanish, unless you include Spanish brandy, and the Kentucky coffee just substitutes a shot of bourbon instead of Irish whiskey. Obviously that makes a Canadian coffee almost obvious with Canadian whisky, but it's the maple syrup that makes it truly Canadian. Not only does the maple syrup substitute for the sugar, it is also added to the whipped cream to provide aroma. Sorry, no cans of commercial whipped cream allowed for this coffee.*

Any good drink starts off with good ingredients. For Christmas I received a French Press coffee maker, and I must say that it is hard to go back to standard brewed coffee. The French Press just makes a great cup of coffee, especially when you grind your own beans. And if you are truly crazy, like me, you can actually roast your own coffee in a air-blown popcorn maker! More on that in another post.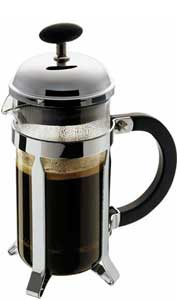 If you have never seen a French Press it is ingeniously simple. Basically you put your ground coffee into the carafe part of the Press, pour hot water in, put the plunger / filter on and wait four, or so, minutes for your coffee to be ready. When it's ready, you push the plunger / filter down and it pushes all the grounds to the bottom, leaving the filtered coffee. The only downside is that the carafe doesn't keep your coffee warm for very long, so you can only enjoy one cup at a time (it makes two cups, or more, but sharing with a friend or partner is important). Also the French Press can leave a very fine sediment. You won't notice the sediment if you leave a little coffee at the bottom of your mug.

If you don't have a French Press or a Chemex coffee maker ('the Chemist's way of making coffee") a good, freshly brewed, pot of coffee will do. For the Canadian coffee you want your coffee to be stronger than normal, unless of course you already drink strong coffee i.e. Starbucks.

After the coffee, you need a good Canadian whisky. I have a growing collection of Canadian whiskies and any of the older ones (Crown Royal, Gibson's, Wiser's and Forty Creek) will be great. I've recently picked up a bottle of Alberta Premium 25 Year Old and if you can find it (rare) it is a great whisky, more on that in another article.

Next, you need some maple syrup. If it comes in a bottle shaped like Aunt Jemima, forget it! Go out and buy some real Canadian, or Vermont, maple syrup. Maple flavour corn syrup is no substitute for the real thing. I'm using a Canada No.1 Light Grade (U.S. Grade A Medium Amber), but you can use a darker or lighter syrup, depending on your tastes. You need enough to sweeten the coffee and add to the whipped cream.

To make the whipped cream you combine 3/4 of a cup of heavy cream (35%) and 4 teaspoons of maple syrup. Combine the two ingredients and then whip until soft peaks form. Makes enough cream to top four coffees. You can modify the recipe if you like or cut it in half to make less.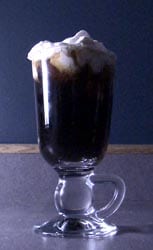 Canadian Coffee

1 oz Canadian Whisky
½ oz Maple Syrup
4 oz Coffee
Top Maple Whipped Cream

Place whisky, maple syrup and coffee in a specialty coffee mug and stir to combine. Top with lightly maple flavoured whipped cream.

If you are getting tired of the same old coffee's give this one a try, it is smooth with a subtle maple aroma and flavour. Combining the maple syrup and whipped cream gives this drink an edge. And remember, always use good coffee!

* If you have a ISI canister, you can obviously use that.