Matusalem Gran Reserva Rum
Darcy O'Neil :: February 9, 2007 11:37 AM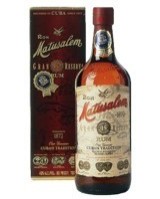 With many products image is everything. When it comes to rum, the image of Cuba seems to be the holy grail of marketing. Bacardi has always been associated with Cuban rum, because they were founded in Cuba in 1862 but left after the Cuban revolution. Matusalem is another Cuban company that began producing rum in 1872 in Santiago. But in 1959 the Cuban revolution forced the Matusalem company into exile, just like Bacardi. After some family issues the Matusalem brand was re-launched in 1995 as a premium brand of rum with Cuban heritage. Today it is made in the Dominican Republic. This rum is made using the Solera process.

The Solera process is a system for aging spirits, but not in the traditional way. It is done by blending rums of varying ages and then reporting the average age of the blend as "x solera" which avoid the use of years on the bottle. In the case of Matusalem Gran Reserva they state the rum is 15 Solera.

So how does the solera process work? Well it starts off with a number of different blended rums, of different years. The oldest blended rums are then blended with the younger rums in a cascading barrel system that produces a blend that could contain 25 year old rum, 20 year old rum and eventually right down to 5 year old rum. When rum is taken off the oldest barrel, it is topped off with younger rum and is allowed to age for another period of time. Only one third of a barrel can be used at a time, this is so you don't deplete the aged material.

So if a rum reports that it is 15 Solera, then that is the average of the rums in the bottle. For example, under normal labelling rules, if the youngest rum used in a blend is 5 years old, then you would have to label it as a 5 year old rum, even though it may contain 25 year old rum. But in the solera process, you average out the ages. It's kind of cheating, but there is some level of tradition to this production method in places like Spain. It does produce a unique flavour though since it combines fiery young rum with smooth old rum.

Matusalem Grand Reserve Tasting Notes

Appearance: Golden brown.

Nose: Smooth with a sweet buttery caramel aroma. Not as much oak as other aged rums, but the aroma is stronger than some of the other rums.

Taste: Starts with some sweetness and then opens up to reveal flavours of molasses and butterscotch with some subtle cinnamon and vanilla spices. Slight alcohol and rum heat on the finish with a long tongue tingling spiciness.

The Matusalem Grand Reserva rum is a very good rum. It isn't as complex as the Havana Club, or as smooth as Mount Gay Extra Old, but it is distinct. Many people who enjoy rum like a little bit of that young rum burn, but also like the aged rums that become softer and gentler. Well the Matusalem Gran Reserve seems to be a happy medium.