Stratford Pilsner
Darcy O'Neil :: March 16, 2007 12:30 PM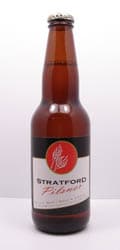 Pilsner, the lager that makes the world go round. I like a nice crisp lager and based on my bartending observations so do a lot of people. Some of the most popular beers are pilsner style lagers, like the original Pilsner Urquell, Labatt Blue, Steam Whistle, Beck's and many, many more. Now add Stratford Pilsner to the growing list. So, what can a small microbrew hope to do to gain market share against the international beer behemoths that spill more beer in a day than this brewery makes in a year? Well, hopefully make a tasteful beer that doesn't use cheap adjuncts and maintain consistency from batch to batch. Is that too much to ask for?
The city of Stratford is located between Detroit, Michigan and Toronto, Ontario. It is world renowned for it Stratford festival which is theatre based on the works of Shakespear and others. A long list of famous actors have graced the stages of Stratford including, Alec Guinness, William Shatner, Christopher Plummer, Christopher Walken, John Neville, and Graham Green, among many others.

To quote the Stratford Brewery website; "Stratford Brewing Company is a small, family run business. At the helm are husband and wife team, Joseph Tuer and Rebecca Hill, both Stratford natives. Joseph Tuer is a beer connoisseur who has long held the dream of opening a first-class microbrewery in Stratford." The brewery is using all natural ingredients to brew their beer(s) and the beer is bottled unpasteurized, which makes for a better beer.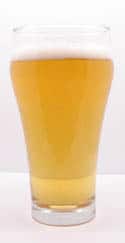 Now for the beer. Obviously, this is a pilsner style beer so it should be crisp with some decent hoppiness. Well the Stratford Pilsner delivers on both accounts. The aroma is malty with some good fruitiness and citrus notes. Taste wise, it has a nice crisp start which leads to some good bitterness from the hops, definitely more than any of the major beer conglomerates. The finish is smooth with lingering hops and malt. This beer has good character. I like it but my wife finds there is too much hop character for her, which is a fair assessment for someone who doesn't drink a lot of beer. She does like Steam Whistle though.

My first impression of Stratford Pilsner was that it is a very good beer and stays true to the style. Those of you who read this website regularly will know that I have a love affair with Steam Whistle pilsner. Part because the beer is good and part because I find the company to be very "user friendly". That's to say that when you visit the brewery, they make it an enjoyable experience. Plus they are also environmentally friendly, using a number of technologies in there brew house that help the environment. Now for the startling admission, the Stratford Pilsner may be as good a beer as Steam Whistle, but I need to do a head to head comparison before you can quote me on that. Now, if Stratford Brewery could just be as huggable as Steam Whistle, I might need to change my loyalties. But needless to say, I will be buying more Stratford Pilsner in the future.

Stratford Pilsner is only available in select Ontario markets at the moment. A six pack costs $11.75 CDN.