Iceberg Gin
Darcy O'Neil :: April 5, 2007 9:12 PM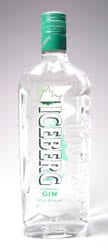 Admittedly I haven't been a big drinker of gin. I've always been seduced by aged spirits like whisky, rum and brandy (cognac). I like the look of brown spirits with their deep golden brown tint and their enticing oak aromas of vanilla and spice. I've had lots of gin cocktails, but gin is usually in a supporting role, rather than the main character. I've had some gin martini's but aside from that, I've never spent anytime taste testing gin. The local liquormart (LCBO) doesn't have a great selection of gin, but they do carry Plymouth Gin, which I find works well in cocktails, so nothing ever jumps out at me and says "buy me". Except when I decided to write about Gin & Tonics. I came across Iceberg Gin and decided to try this relatively new gin. Here's what I've discovered so far.
Iceberg Gin is made by the same company that makes Iceberg Vodka. The angle for the iceberg vodka is that they harvest icebergs (growlers) from north-eastern coast of Canada and bring them in to melt and capture the water. The water from the icebergs is suppose to be pristine, which makes sense since they cleave from 12,000 year old glaciers. Anyway, the idea that good water makes good vodka is an often heard marketing statement. The theory must be that great water makes great gin also.
Iceberg Gin starts off the same as Iceberg Vodka, but then they add the botanical s that turn it into a gin. Obviously juniper is key, but other than that Iceberg doesn't make any statements as to what botanicals they use in their gin. This gin is a London Dry gin though.
This will be the first time that I've reviewed gin, and I've noticed that my palate is having a difficult time separating out the flavours, so I picked up a bottle of Beefeater Gin to help compare. At least that will give gin aficionados a bases for comparison. In the future I'll have to pick up some bottles of spice like coriander, angelica and others to help calibrate my nose and palate for reviewing gin.
Iceberg Gin Tasting
Appearance: Water White
Aroma: Juniper, pine needle aroma with orange peel and citrus
Taste: This gin is fairly light and smooth in character. The juniper flavour comes across your palate first and then hints of citrus and other herbs follow. The finish is a soft and spicy.
The description of the finish as soft and spicy may be more of herbal flavours that linger on the tongue. When compared to Beefeater Gin, the Iceberg Gin has a more gentle flavour that isn't as heavy on the juniper. Plymouth gin is even more assertive than Beefeater, which makes it good for cocktails. For people who want a very smooth gin martini Iceberg maybe your choice. I've heard Bulldog Gin is another lighter gin, but they were originally going to send me a sample, but they never did, so I can't really compare at this point aside from other reviews.
Since I'm taking an opportunity to taste the merits of gin on their own I think Iceberg Gin was a good choice for me. It would probably go very well with soda water and a lime and would make a nice classic gin martini. It might not be so good in a Ramos Gin Fizz, since it would probably get lost with all the other flavours, something more assertive would work better.
Price of Iceberg Gin at LCBO: $24.95 CDN