Off the Cuff Cocktail
Darcy O'Neil :: May 11, 2007 10:19 PM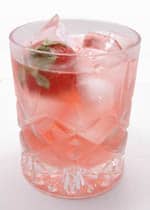 As a bartender you are often confronted with requests to make a person "something special". This is usually done by a girl, but on rare occasions men have been know to say similar things. Most men say make me something strong, not so much special. But when these occasions arise some bartenders, like myself, relish the challenge, other bartenders grunt and mix up a San Francisco. For those not in the industry, many bartenders have a single "go to cocktail" that is the answer to every "make me something special" request, a popular one being the San Francisco. As for me, I'll make something off the cuff and on the fly.
When you decide to just whip up a cocktail you have a couple of options. The first is a simple variation on a well know cocktail. For example you can substitute one liqueur for another, lets say vanilla for orange. Also you can make some obscure cocktail that you found in a cocktail book you picked up at the local Occult Book Barn. The next option is playing it safe by making the cocktail sweet and fruity. Just combine a bunch of juices and add a couple of fruity liqueur. Who doesn't love a sugar laced synthetic fruit bomb? The option I prefer is to make something totally unique, using a few pieces of information extracted from the patron. This requires some skill and product knowledge though.
The trick to making a good cocktail is working with flavours you know. If you are an aspiring bartender don't try making a cocktail with "that bottle" nobody ever touches. Part of the reason I review so many products on Art of Drink is for my own personal knowledge, writing about it helps me to remember. This knowledge helps me to combine flavours that compliment one another.
Here is my thought process when I created the Off the Cuff Cocktail. The request was, from a girl, to make something unique, not too sweet but slightly fruity. It's kind of vague, but workable. The first thing I though was what twist I would put on a slightly fruity cocktail. I decided that strawberry would be the primary fruit flavour and a hint of vanilla would be the complimentary twist flavour. In this instance I used strawberry syrup and Navan Vanilla Cognac. The colour would also be a light pink, so it would be ok since it was a cocktail for a girl.
Now I know both of these are very sweet so I'd need to balance this out with some acid and alcohol. Lemon or lime wouldn't work for the acid part, but a nice crisp white wine would. Pinot Grigio (Pinot Gris) is pleasantly fruity and acidic, and works well with cocktails, so it's in. The last part is a strong alcohol component. Vodka would be most peoples choice, but not for me. I decided to use some brandy since I figured that it would work well with the Pinot Grigio and vanilla flavour.
After shaking the drink up and giving it a quick taste (using a straw like a barrel thief of course) I decided it wasn't light enough. All of those flavours tasted good together, but didn't fit the "light" criteria. So, I added some Perrier. I like Perrier because the bubbles seem to be finer than Club Soda, but Club Soda would work. Anytime you want to lighten a drink up, just add bubbles. Behind the bar you don't have the option to toss the drink and start over, so you need to know what other things you have on hand to fix a cocktail. More on that in another post.
Off the Cuff Cocktail
¾ oz Brandy
¼ oz Navan
2 oz Pinot Grigio
¾ oz Strawberry Syrup
Top Perrier or Club Soda

Combine first four ingredients into a cocktail shaker filled with ice. Shake and strain into a 12 oz rocks glass packed with ice. Garnish with a strawberry.
The response to the cocktail was very positive and I ended up making a couple rounds for her friends.
San Francisco
1 oz vodka
½ shot Creme de Banana
1 dash Grenadine
Top Orange Juice

Shake and serve in a highball glass with ice.
Decorate with a slice of orange and a red cherry.