Blanche de Chambly
Darcy O'Neil :: June 16, 2007 8:14 PM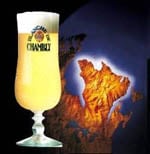 The dog days of summer will soon be upon us and we'll need plenty of refreshing drinks to take the edge off the heat. Cocktails like Mojito's and Mint Julep's are obvious choices, but a nice cold glass of beer isn't a bad choice either. Now the choice of beer style is very important. You can choose a bland, pale, artificially carbonated, adjunct loaded, rice beer like Bud Lite. Blah! Or you can go with the ubiquitous Mexican Cerveza, like Corona, with its ever popular lime. Boring, and lime does not belong in beer people! Or you can choose a good weisse beer (Witbier, Biere Blanche, White Beer or Wheat Beer) like Blanche de Chambly from the Unibroue brewery in Quebec.
Wheat beers are basically what the name implies, beer made from wheat. The wheat makes for a lighter coloured, and flavour, beverage so a lot of the brewers add spices, in the Belgian style, to give the beer some more appeal. The most common spices are coriander and orange peel which work really well together. Hoegaarden (pronounced" who'garden not ho'garden) is popular wheat beer and if you like Hoegaarden, you will also like Blanche de Chambly. Blanche de Chambly isn't a true wheat beer because light barley malt is added, presumably for body and some flavour.
Blanche de Chambly is also only partially filtered, common for this style of beer, which is the reason the beer has a hazy appearance. The yeast (lees) stays in the bottle and contribute to this beers unique flavour. If you ever have a chance to try beer before and after it is filtered, at a brewery, do so, it is an eye opener on what effect filtering does. I had an opportunity to try this at the Steam Whistle brewery and the filtration definitely gives the beer a sharper / crisper flavour.
Blanch de Chambly
Appearance: Hazy straw colour. Nice white head, but disappears quickly.
Aroma: Yeasty with coriander and orange.
Taste: Crisp with a light hoppiness and flavours of citrus and spice. Very nice carbonation, which makes for a very smooth, almost buttery, beer.
Blanche de Chambly is a light summer beer best served well chilled. Blanche de Chambly is widely available so if you want to try something other than that boring old Corona, buy or order a Blanche de Chambly. It has a good refreshing characteristic so light beer drinkers shouldn't be offended, unless of course you are so old change is impossible. If they don't have Blanche de Chambly, ask for a wheat, weisse or witbier or just a Hoegaarden. Change is good, and breaking that "ordering the same old thing" habit is a great way to enjoy life.