Cocktail Widow Liquor Awards
Darcy O'Neil :: July 21, 2007 4:33 AM
by Caroline O'Neil
After taking inventory of Darcy's liquor collection, I decided to award my favourites. I will openly admit that my taste buds are not as refined as Darcy's and that I have not even come close to sampling everything in his bar. Some of the awards are simply based on experience. I have included a couple of additional categories for extra credit towards my homework. I'm sure that Darcy has already reviewed most of my selections so I will post a link to what the expert thinks. And the winners are, drum roll please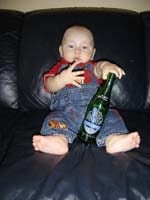 Best Beer: Steam whistle
Now it may seem odd for a girl to pick the best beer but I do enjoy a good beer from time to time. When Darcy and I were dating we would always go out on Friday night and I would order a beer with him. Darcy would encourage me to try different things. Believe me I've tried a lot of beers and I've found Steam Whistle to be quite refreshing. This award was solidified after going on a tour of the brewery in Toronto because it made you appreciate all of the hard work that goes into making a good beer and it was very entertaining.
Best Wine: Yellow Tail Shiraz
I use to only drink white wine but have acquired a taste for the red. Now, I definitely prefer red over white. I've tried quite a few different wines but I can never remember the name of them. I've had this one fairly often and every time I drink it I enjoy it very much.
Best Liquor: Navan Vanilla Cognac
Most of the liquor bottles in Darcy's collection are still pretty full because he samples them and will use them in a drink periodically. However, this bottle is now empty and we need to pick up another. I absolutely love the vanilla flavour and enjoy this served up neat.
Best Vodka:
Kleiner Feigling fig flavoured vodka
When it comes to vodka, I have no idea how you can tell the difference between them. Therefore, I picked this fig flavoured vodka because it is unique and I really enjoy the taste.

Best Champagne:Moet & Chandon Brut Imperial
This champagne is based purely on experience. This was the drink we used for toasting at our wedding. Therefore, it will always be my number one choice. I haven't tried a lot of different kinds but this was by far the best. This may be the fact that this is also the most expensive champagne I've ever had.
Most Expensive Bottle: Johnnie Walker Blue Label
Darcy picked this one up to celebrate our wedding. I wasn't going to argue over the price tag because he didn't see the cost of my wedding dress. While I'm not a scotch fan, I did try a bit of it and found it to be a lot smoother than anything else I've tried.
Liquor Bottles Most Interesting Trip Home: Patron Anejo tequila
I went to visit my sister in Texas and Darcy insisted that I bring home a bottle of tequila for him. She lives in a dry county so we had to make a special trip to "Mobile City:, which is the only place to buy liquor for miles around. I knew I had been duped when I pulled out his wish list and looked at the price. Needless to say, I picked it up and lugged it home in my suitcase.

Best Guinea Pig Moment:
Burnt Island Cocktail
I had to select the cocktail Darcy designed, called the Burnt Island. This is the one cocktail that went through so many variations that I became the biggest guinea pig you've ever seen. The end result was a great cocktail that I absolutely love and his patrons also consistently request it at the bar.
Most Disastrous Guinea Pig Moment: Dark caramel syrup
It took a lot of trial and error to perfect this technique. In his article, he prefaces the recipe with warnings and suggestions. I highly recommend following these instructions because I can clearly remember him making all of these mistakes. Let's just say that I kept the fire extinguisher nearby. The caramel syrup is well worth the effort.
So there you have it. I hope you enjoyed the awards.