Mixology Monday: Knickerbocker
Darcy O'Neil :: July 16, 2007 7:34 PM

It's another Mixology Monday and this edition is brought to you by Paul at the Cocktail Chronicles and the topic is Blog Love. What is Blog Love you ask? Well according to Paul, since the number of cocktail and spirit blogs is growing like an unabated rabbit orgy, we should each show another blog some love. Consider it "hug a cocktail blog day". So which blog is going to get some kudos from The Art of Drink?
At first I thought I'd write about one of Jamie Boudreau at Spirits & Cocktails but the three or so cocktails I wanted to write about all had Maraschino, and I'm all out. Then I was thinking about one of the newer blogs that just arrived on the scene, like Explore the Pour, Nonjatta, or Alcademica. But I just couldn't find anything I felt like drinking, today anyway. The usual suspect (Jeffrey Morgenthaler. Cocktail Chronicles) seemed too obvious. Plus there are a couple dozen great blogs out there that I just don't have space to mention, what's a bartender to do?
Then chance stepped in and gave me a kick in the right direction. This is the week of Tales of the Cocktail as I'm sure you all know. My week is pretty full with events, except Friday, which seemed to be fairly quiet. Then I received a message from Christine Sismondo asking if I could help shake up some drinks for Movie Night at Tales of the Cocktail. Of course, movies, drinks, why not. After a quick look over the event, a drink caught my eye; The Knickerbocker.
Prior to my entry into the world of cocktail blogging, there was a blog called Slakethirst that was writing about cocktails, one of them being the Knickerbocker. Slakethirst is still available on-line, but the posts are infrequent. The sites kind-of in a coma, with periods of wakefulness. It's still a good read though.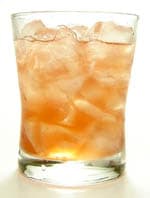 The Knickerbocker
2 oz of Virgin Islands rum
1 oz lemon juice
½ oz orange curaçao
½ oz raspberry syrup
Shake with crushed ice, strain into a glass filled with same.
This cocktail variation is pretty good. A bit on the acid side, but I find raspberries to naturally have an acid bite to them. Once some of the crushed ice starts to melt it tames this down a bit. Next time I might cut back a bit on the lemon juice. Overall not a bad cocktail.
Aside from Slakethirst, Cocktail Chronicles and Cocktail Jen have also written about the Knickerbocker.
Happy Blog Love day!