Absinthe Information
Darcy O'Neil :: August 25, 2007 12:13 PM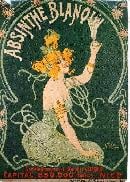 Prior to Tales of the Cocktail my knowledge of Absinthe was fairly limited. I knew enough to avoid the Hill's Absinth at the LCBO and other gimmicky "absinthe" type liquors. The main problem was the actual hands on experience of tasting absinthe. Even though there was never any official ban on Absinthe in Canada, it is still hard to self-import any spirits into Canada. Because of the excellent work of our customs agents (really, that's their job and I can't fault them for doing it well) even the Absinthe sellers that guarantee delivery to the US, a country where it is technically banned, won't ship to Canada. What's a person to do?
Well, things are changing and some importers are starting to get approval from the LCBO for some absinthe products, which should make them more available. The main problem though is getting all the crap about "hallucigenic" and "psychoactive" properties because there are people out there that believe everything they hear, without even doing a small amount of research to determine if what they heard was true. Without proper education, some know-nothing, in a position of power, will end up placing restrictions on an otherwise safe product.
Obviously Absinthe has this problem and even though the laws are changing for the better, it won't take much for things to reverse. So for my own education I decided to browse the National Institute of Health PubMed database. Luckily I work at a University so I have library access to most of these documents. There were about 40 documents with the term "absinthe" and about 100 with the term "thujone". Most of them were fairly irrelevant, but about a dozen were very specific to the information I was looking for. One document in particular (Absinthism: A fictitious 19th century syndrome with present impact by Stephan A Padosch, Dirk W Lachenmeier and Lars U Kröner) was very well written. Even better, it is licensed under on Creative Commons license, which allows redistribution of the paper. So, to help share this intelligent information about Absinthe, I've included a copy of it on the Art of Drink. This is some of the best info on Absinthe, other than the info you can find at the Wormwood Society, so if you want to polish up on your Absinthe knowledge, give it a read.
Absinthism: A Fictitious 19th Century Syndrome with Present Impact
Note: The Wormwood Society has this document and a number of other peer reviewed research papers available in their absinthe library.