Canadian Cocktail
Darcy O'Neil :: August 13, 2007 6:18 PM

What do oranges and Canada have in common? Nothing, except maybe the fact the cocktail that goes by the name "Canadian Cocktail" has triple sec and bitters (orange bitters, if you stretch) in it. Ya, I know, you were expecting something with Maple Syrup in it and a Poutine garnish. But it's Mixology Monday again and the theme is Orange, so any cocktail that uses something orange related works. Check out the Canadian Cocktail and then head on over to Intoxicated Zodiac to see what everyone else is writing about.
The true Canadian cocktail is the Caesar, but if names count for something, then the following recipe is the original Canadian Cocktail. There isn't much in the way of history on this drink, but it seems to follow in the steps of the Old Fashioned cocktail and the Manhattan. Simple proportions, whisky, bitters, sweetener, and a complimentary flavour.
The Canadian Cocktail is hard to find in many recipe book, but can be found in ones such as the New New York Bartender's Guide and of course Mr. Boston's. You won't find it in the Joy of Mixology, Craft of the Cocktail, nor Diffords Guide. The one nice thing is that the recipe is unambiguous and for the most part there is only one recipe, and it is as follows:
Canadian Cocktail
1½ oz Canadian Whisky
1½ tsp Triple Sec
1 Dash Bitters
1 tsp Simple Syrup (2:1)
Instructions: In a rocks glass packed with ice combine whisky, triple sec, simple syrup and bitters. Stir and garnish with a cherry and long orange twist (I prefer lemon, a la Manhattan)
Note: You can also shake and strain this cocktail into a Manhattan (Martini) glass if you wish.
This drink isn't as sweet as you'd think. It actually tastes very whisky like with an orange finish. You can almost feel a bit of a Sazerac in there. I used Regan's Orange Bitters for this cocktail and it provides the majority of the aroma. Using bourbon might not work in this drink, it might over power the subtle orange flavour. A solid rye would work in this cocktail though. I used Gibson's New Oak whisky and McGuiness Triple Sec which runs at 35% ABV and isn't exceptionally sweet. Using a lower proof, sweeter, triple sec might not work as well. If you use a triple sec that's 17% ABV then try it first without the simple syrup. If you like Old Fashions and Manhattan's and even Sazerac's, you might want to add this to your repertoire eh.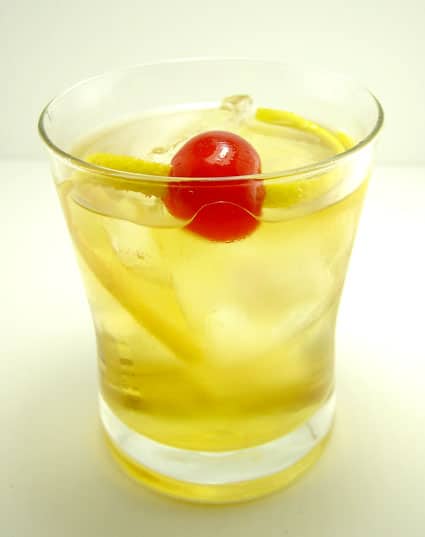 There is a lesser know "Canada Cocktail" which basically skips the sugar and uses Cointreau instead of Triple Sec. Of course it gets a dash of bitters, and it calls for Angostura Bitters.
Canada Cocktail
1½ oz Canadian whisky
½ oz Cointreau
3 drops Angostura bitters
You may find a Smirnoff'd (bastardized) version of the Canada Cocktail created by the most recent Smirnoff Cocktail Consultant, Cameron, which uses Rhubarb Juice and Blackcherry vodka. Stick with the original.