Ron Zacapa Centenario
Darcy O'Neil :: August 7, 2007 8:42 PM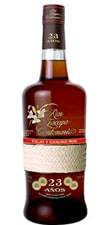 When it comes to spirits, rum is one of my favorites. It has such a varied flavour profile and is supremely mixable. It also ages exceptionally well, and a perfect example of this is Ron Zacapa Centenario. This rum is dated at 23 years old and is aged in the warm climate of Guatemala. By all account this is suppose to be an exceptional rum that could very well be one of the best in the world. Well, that's what I've heard from a bunch of spirit competitions and read in other publications. The only way to determine this is to give it a taste and compare it to something like the Appleton Master Blenders Legacy rum to see how it rates.
I've had a few discussions with a number of people about this rum and almost everyone loves it. But the one controversy is whether this is truly a 23 year old rum. Some things I've read indicate that it is the average age of the rums, or that it is based on the Solera process. I had a quick discussion with Ed Hamilton, in New Orleans, about this and he indicated that the rum is pretty close to 23 years old, Solera or otherwise.
The reality is that it's not how old the rum is, but how good it tastes.
Ron Zacapa Centenario
Appearance: Deep brown, almost like a dark rum.
Aroma: Sweet with subtle wood and sugar cane notes.
Palate: This is a sweeter rum than most in its age category. It starts off sweet and exceptionally smooth. It slowly evolves into a sweet, wood spice finish with a warming sensation.
Appleton Master Blenders Legacy
When comparing the Appleton rum to the Ron Zacapa, the Appleton is much drier in nature and has a lot more aged wood flavours. The Appleton rum has a better nose, but in terms of smoothness, Ron Zacapa wins.
If you like a sweet smooth rum then Ron Zacapa is a great choice. If you like a drier, deeper, heavy on the oak flavour then Appleton might be your choice. I personally like the Ron Zacapa, but I tend to lean towards sweet rums though.
Since I was comparing these two rums head-to-head it seemed like a novel idea to mix the two rums together to see what I ended up with. It turned out pretty good, but the Appleton is more assertive and ends up dominating the "blend", the Ron Zacapa adds a touch of sweetness to the mix.