Cream Gin Fizz
Darcy O'Neil :: September 6, 2007 9:10 PM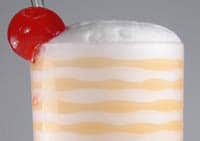 In my continued exploration of Tiki drinks I came across a rare gin based drinks. Anyone who has spent anytime making Tiki cocktails will know that rum is king in the Tiki world, but it isn't unheard of to use other things like gin and bourbon and on rare occasions, vodka. This drink looks to be a modified version of the Ramos Gin Fizz, but the fact that it was made in Honolulu around& 1905 is what puts it into the Polynesian category. So, if you like creamy gin with lime check this cocktail out.
This drink is a bit easier to make than a Ramos Gin Fizz. First it uses fewer ingredients and doesn't incorporate egg whites. With any cream or milk based fizz drinks, the trick is to shake the hell out of them to get a good foam. I use large ice cubes also, for some reason it helps to get that good foam.
I made one modification to the recipe in Sippin' Safari and that was to replace milk with half 'n half cream (18%) and a splash of milk. This recipe calls for 2oz of lime juice which will curdle your milk and make for a chunky gin fizz, which isn't very appetizing.
Cream Gin Fizz
1½ oz London Dry Gin
1½ oz Milk*
2 oz Fresh Lime Juice
3 tsp Sugar
1 oz Club Soda
Dissolve sugar in lime juice, then place in a cocktail shaker along with gin, milk and plenty of ice. Shake well. Pour into a tall glass, leaving a little room on top. add soda water. Stir quickly to make it foam , then serve immediately.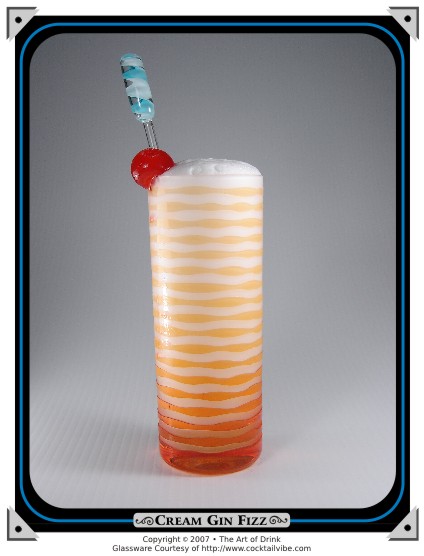 This drink is not as sweet as a Ramos Gin Fizz, but surprisingly it is quite pleasant, even though it has 2 oz of fresh squeezed lime juice. The fat from the cream probably helps to cut down on the acidity, as does the sugar. The foam created in this drink is super stable and came out better than some of my Ramos Gin Fizz attempts. I'd think that the high amount of citric acid, from the limes, contributed to the stability of the foam.
If you like creamy gin limeade, then this drink is for you. Admittedly, this drink went down pretty quick and I enjoyed it.