Lady of Singapore
Darcy O'Neil :: September 4, 2007 9:45 PM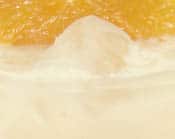 Tiki drinks are some of the most intricate recipes around. Many of the them contain upwards of 10 ingredients and usually require the use of a blender. But there are a few shorter recipes. One of those is the Lady of Singapore, it only contains six, plus ice. It is also one of the drinks that is a variation of a pre-existing drink. Like the Golden Stag is a variation of the Daiquiri, the Lady of Singapore looks to be a variation of the Pina Colada.
As my second real look into Tiki drinks, I figured this was something worth looking at. A common theme in the Tiki drink world is the almost continual evolution of a drink. The best example of this is the Zombie. For about 20 years (1935 to 1955) it seems there was at least a couple dozen different recipes for the Zombie. Some good, some not so good. In the case of the Lady of Singapore, it merely made some minor changes to the Pina Colada formula and beyond that there are not to many historical references to this drink. The drink was served at the Portland, Oregon Kon-Tiki restaurant in 1960.
Lady of Singapore
½ oz Fresh Lime Juice
½ oz Lopez Coconut Cream
½ oz Fresh Cream (½ & ½)
1 oz Unsweetened Pineapple Juice
1½ oz Puerto Rican Rum
1 tsp Grenadine
4 oz Crushed Ice
Instructions: Put everything into a blender, saving crushed ice for last. Blend on High speed for 5 seconds. Pour into a specialty glass with sculpted ice mold.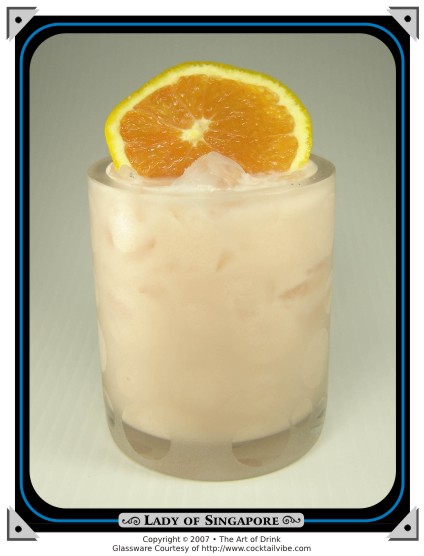 I opted to forgo the sculpted ice because I didn't have a glass that would work. Also, the 4 oz of ice doesn't work too well in this glass, so I had to add some ice to fill it up. But other than that, this is basically a fancy pink Pina Colada. It does have a few differences, namely it isn't as sweet as the Pina Colada. The sweetness is cut back by the ½ oz of lime juice and the relatively small proportions of pineapple juice and coconut cream.
The one thing I like about this drink is that behind the bar I could sell it to girls wanting a Pina Colada. This drink is easier to make and is just ever so slightly different that they'd like it.