Sex on the Beach
Darcy O'Neil :: October 5, 2007 9:08 PM
When a girl doesn't know what to order at a bar she will generally default to a handful of drink choices, one of them being the Sex on the Beach. Lately I've been feeling the same way about writing, so I'm defaulting to a default cocktail. This is a simple, but effective, cocktail that seems to please the sugar junky masses. This drink has many variations, but for the most part the variations are related. When properly made, the Sex on the Beach is a descent drink (i.e. better than a Screwdriver), and few bartenders actually screw it up, so it is consistent at least. Also, when the stagette party walks up to the bar, whipping up a dozen Sex on the Beaches is an easy task.
The Sex on the Beach cocktail isn't a classic drink, nor is it a particularity great drink, but it has good marketing. Sex sells, and even though almost every new cocktail, created by some inept bartender, is labeled with sexual innuendo, the name Sex on the Beach is subtle but obvious. Even church going old ladies are not offended by the name. It's whimsical.
Behind the bar this is one drink that never ever bothered me to make, even a dozen at a time. It is very simple to make and the customers always seemed happy with their choice. The main amusement for me came when girls order a Sex on the Beach for the first time. For some reason people think the word "sex" is forbidden, or something, and they say it quietly under their breath. Then they turn bright read when I repeat their order back to them really loudly. The non-amusing part is when a 50 year old cougar orders a Sex on the Breach, and stares at you while licking its lips. As a bartender you take the good with the bad.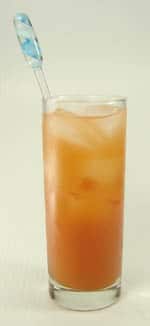 How to make a Sex on the Beach
1.5 oz Vodka
0.5 oz Peach Schnapps
0.25 oz Chambord
2 oz Cranberry Juice
2 oz Pineapple Juice
Shake all the ingredients and strain into an iced highball glass.
That is the classic Sex on the Beach recipe, but in many bars around the world you will find a few substitutions and some recipe trimming. First, most bars skip the Chambord because it is relatively expensive. Secondly, you will find that orange juice is often substituted for the pineapple juice. Why? Because most high volume bars have OJ on the gun but not pineapple juice, so for the sake of speed they sub in the OJ. Other than that, you will possibly find other additions like Midori, or possibly Malibu coconut rum.
My general advice is to stick with the original. If using Chambord makes your manager turn red and scream, try using something like Bols Raspberry liqueur. In this drink it is close enough and it will give your Sex on the Beach a little more flavour.