Tiki: Marlin
Darcy O'Neil :: February 19, 2008 8:42 PM
The month of February can be the most depressing month, especially when you live in the North. The daytime high temperature peaks around -7° and the wind-chill this evening will be a cool -24°. The sun, well, let us not speak of the sun, because it only comes out from behind the clouds to taunt us. And of course there is the weekly blizzard / ice storm that seems to be like clock work these days. The worst part is the snow is no longer a pristine white, it now resembles dirt, but uglier. Now that I've set the mood, I think it is time for a quick getaway. Since a cruise through French Polynesia isn't in the budget, I'll just make a Tiki drink, turn on some bright lights, point a hair dryer at my face, and dream.
Life in the north is tough, but like they say: "without darkness, there would be no light". So, having it tough means we can, hopefully, appreciate good things a bit better. One of those "good things" is a tropical drink that can pull you out of the winter doldrums, and that usually means Tiki.
My choice for seasonal mental distraction is the Marlin, from Beachbum Berry's Intoxica!, which is still one of the best names for a cocktail book. Anyway, the selection process for the drink was easy, because I'm currently out of grapefruit, orange and pineapple juice and the Marlin require none of the above. I could go outside and buy some, but I did mention the temperature right?
Marlin
by Clancy Carroll
½ oz Fresh Lemon Juice
½ oz Fresh Lime Juice
½ oz Maraschino Liqueur
½ oz Orgeat Syrup
½ oz Blue Curacao
1 oz Martinique Rum
1 oz Light Puerto Rican Rum
Instructions: Shake with ice cubes and strain into an old fashioned glass filled with crushed ice. Garnish with green and red Maraschino cherries.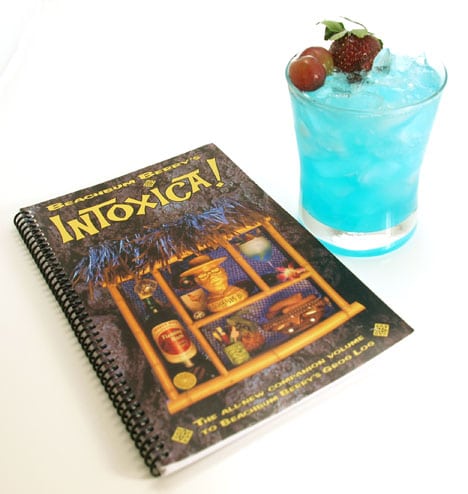 The recipe calls for Maraschino cherries, which I don't have at the moment, and again, I'm not going outside, so I substituted strawberries and grapes. I also substituted light Jamaican rum for the Puerto Rican Rum.
Flavour-wise this is actually a pretty good drink. I know a lot of cocktail elitists may look at Blue Curacao and think "girly drink", but I assure you this is not a beginners drink. And what other colour would a Marlin be if it wasn't blue?
The rum alone gives this drink a nice potent kick and the other flavours combine nicely to form something new. You can't really pick out the orgeat or Maraschino, but the combination is enjoyable. The quantity of crushed ice really helps keep the heat from the alcohol contained, which is really an important part of a good cocktail. It even gets Caroline's thumbs up, and she's usually not one for strong drinks.
Ahh. The Marlin provides brief respite from the chill of the winter. I can only wait until the heat of the sun is once again baking my skin and parching my palate, which will obviously require a revisit of the Marlin.