Mx Monday: Fruit Liqueur
Darcy O'Neil :: April 14, 2008 8:08 PM
This months topic is all about fruit liqueur, and is being hosted by Anna at Morsels and Musings. The topic of fruit liqueur is wide open, and that makes things fairly easy, well at least no emergency trips to the liquor store for me. Even better though is the fact that I have something to write about that is easily available in Ontario but not available in the US. My US based friends may have creme de Violette and elderflower liqueur, but I have Cherry Marnier. It always seems I'm envious of all the cool new liqueurs that hit the mainstream market in the US, but not today, it is your turn, my US friends, to be a little jealous!
Cherry Marnier is a sophisticated cherry liqueur made by the House of Grand Marnier, which is obviously famous for its orange liqueurs. It is made from the Morello cherry and does not resemble, in any way, the flavour of Maraschino liqueur. Cherry Marnier is a moderately sweet cherry liqueur, with hints of almond. It is extremely smooth, but still has some spiciness in the finish. It is aged for one year in vats and then bottled at 24% ABV.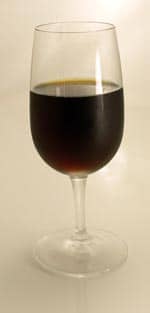 Since it is Mixology Monday I'm going to whip up a cocktail with this eloquent liqueur. The first thing that comes to mind is something Manhattan like. It seems to be an obvious choice, since Maraschino liqueur played an early role in the cocktail and then was replaced by the Maraschino cherry. The trick is to make the cocktail in a way that retains the character of the Cherry Marnier.
After a little thought, here is what I've come up with. First, rye or bourbon is a bit too much for this drink, so we are going to look North and use a good Canadian whisky, like Forty Creek. Canadian whiskies work exceptionally well when you want them to be a complimentary flavour, instead of the key flavour. Next we'll need a good vermouth, and luckily a friend in San Francisco was kind enough to do a "trade", which landed me a bottle of Punt e Mes. Aside from the Cherry Marnier, that is it. Simplicity is sometimes the best.
Tom Morello
1 part Cherry Marnier
1 part Forty Creek Whisky
1 part Punt e Mes
Combine all ingredient into a shaker packed with ice and stir for a good minute. Strain into a cocktail or ISO wine tasting glass.
This cocktail works very well, but for those who prefer a little less bitterness you can use an easier going vermouth, like Vya, or cut back on it by half. I'd avoid the Martini and Cinzano vermouths. But then again, most people won't be able to duplicate this cocktail because of the Cherry Marnier. Ha, now you know how I feel!
Bonus points to the first person who posts a comment and understands the name.