Iron Spike Blonde
Darcy O'Neil :: May 24, 2008 8:17 PM
With all of the mega-brewers heading in the same direction (i.e. mergers) we will eventually have a monobrew that doesn't offend anyone, nor does it excite anyone. Thankfully, we have a bevy of microbrewers that are creating something unique for those of us that appreciate choice in our life. One of those microbrewers has just started production 20 minutes from my doorstep, so I thought I'd venture out and support some local talent. Now let us see if Iron Spike Blonde is worthy of the trip to St. Thomas.
First, let's have a geography lesson. I live in London, Ontario, as many of you already know, and it is located midway between Detroit and Toronto. These two major centers are about a two hour drive in either direction. St. Thomas is about 20 minutes from London near Lake Erie. If you look on a map St. Thomas is kind of between Cleveland and Buffalo on the Canadian side of the lake. Sure, I could have just printed a map, but using your imagination is a good thing.
St. Thomas has population of 33,000 and their claim to fame is actually the city where Jumbo the Elephant was run over by a locomotive in 1885. Now they have their very own microbrewery, the Rail City Brewing Company. The city has a long history of railways, hence the name.
Currently, Rail City Brewing has a brewing capacity of 10 hectolitre (1000 litres or 264 US gallons). So it is a very small brewery. They are brewing three beers, which are Blonde, Amber and Copper, and are made with all natural ingredients and bottled unpasturized. These beers are supplied in kegs, 1.9L (½ gal) growlers and polyethylene terephthalate (PET) bottles.
Part of the breweries goal is to reduce their environmental foot print as much as possible, hence the recyclable PET bottles and the refillable glass growlers. They have implemented a number of other things to be environmentally friendly, and I fined that to be a very honourable goal, even though I can't really say I like drinking beer from PET bottles. Hell, why get a bottle when you can get a growler!
As per the title of this post, I decided to try the Iron Spike Blonde, which if you think about it, sounds like a 1980's hair metal band. I mean that in the best possible way, of course. Overall, the beer is getting good, to excellent, reviews from other sites which helped me make my selection.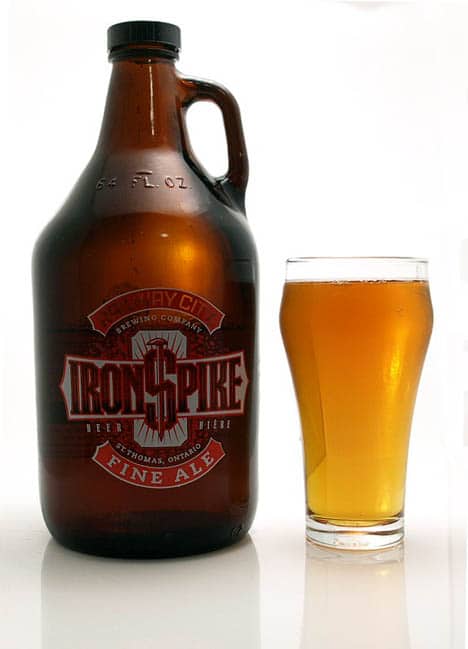 The first thing you notice about the beer is that it pours with a pretty thin head, at least from the growler. I didn't even have time to capture it in the photo. But, the colour of the beer definitely makes up for the lack of head. It is on the darker side of the beer style, but looks great in the glass. The carbonation is fairly light, but again not in a bad way. Some beers that are heavily carbonated, by artificial methods, can be intolerable.
Flavour-wise this is a good tasting beer. It is a bit sweeter / maltier than most and the hops are present but not in a significant way. Some recent microbrews have gone to the "in-your-face" hoping method which I'm not a huge fan of, give me balance please. The Iron Spike Blonde also has some fruity notes which are pleasant. The best part is that the beer is fresh, which makes a huge difference. If you have a lager or ale preference this beer could go either way for you, but ale drinkers might enjoy it a bit more.
Overall, I find this is a good beer. I'd like to try it on tap before I pass final judgment, just because the light carbonation can play tricks with my palate. But if the carbonation is better, I'm all-in and I'd add this to my "very drinkable" list. Rail City Brewing also gets additional marks for being environmentally friendly, which is an important factor in today's climate. That puts them up with Steam Whistle in the eco category, but Rail City Brewing falls short on the brewery tour and community integration. But hey, they are only a month old.
The chances of locating this beer outside of the London area are slim to nil, but this review is written to help encourage you to find a local microbrew and enjoy the fruits of their labour. You'll be supporting local business people who give back to your community and you'll also be helping the environment. Local brewers don't ship their beers cross country from the communist style megabrew-uniproduction-center. Plus, life is way too short to get hooked on a useless brand name monobrew. Be an individual, pick your own style, not one a TV commercial tells you too.