Mixology Monday: Rum
Darcy O'Neil :: May 12, 2008 10:43 PM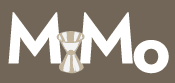 This months Mixology Monday topic is rum, which is a spirit I very much enjoy. I have a fairly decent collection of rum and most of it is purchased based on reviews, curiosity or recommendations. To celebrate Mixology Monday I decided to add another bottle of rum to my collection, and this time it falls under the "curiosity" category. Why, you may ask? Well, because the 2008 San Francisco Spirits Competition picked it as a gold medal winner in the dark rum category. "Big deal" you say, "everything wins a medal in San Francisco". But this time it was a rum I've passed by many times, never giving it a second thought, but with that gold medal, they at least increased their sales by one bottle.
For the curious, the rum is Lamb's Navy, a British classic, fermented around the Caribbean, and in this case, blended and bottled in Canada. It costs about $22 per bottle and doesn't really standout on the shelf with its rather angular looking bottle from 1972. But I've always noticed it, just never had a reason to buy it. But I was curious to find out why it was a gold medal winner.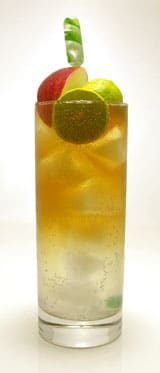 But we won't be discovering that today, because I'm actually doing a highballesque drink for Mixology Monday. Sure, a rum review would have sufficed or maybe Dark n' Stormy would be a great choice, but I think a few people picked that already. Rum and Coke has been done, Rum & Seven is a bit boring for me, so I'm doing something new.
It just happens that Loblaws, a large Canadian grocery store, releases a bunch of seasonal products every year, under the President's Choice brand, and for the most part they are pretty good. Rob Mifsud at Hungry in Hogtown has written a few posts on these products and would probably concur that the PC brand does aim for quality, or at least unique flavour.
One of the summer releases is President's Choice Naturally Flavoured Lychee Sparkling Soda, basically Lychee flavoured pop / soda. Of course curiosity insists that I try to make a drink from it, and since I have a new bottle of Lamb's Navy Rum, I thought that I would try them together.
This highball is pretty simple and required the following:
1½ oz Dark Rum
4 oz Lychee Pop
¼ oz Lime Juice
Apple Wedge

Instructions: Fill a 12oz highball glass with ice and add rum, pop and lime juice. Garnish with an apple slice.
This drink follows the Rum and Seven principal but comes out very different. Obviously there is a lot of tropic tones to this drink with lychee being predominant, but a strong mango flavour seems to appear out of nowhere. The rum is a perfect compliment and doesn't really stand out on its own, it just plays well with the other flavours. The lime makes the drink a bit more refreshing and the apple is a perfect compliment to the lychee. Really, mix up some lychee and apples and you'll understand. Plus the apple adds a little colour.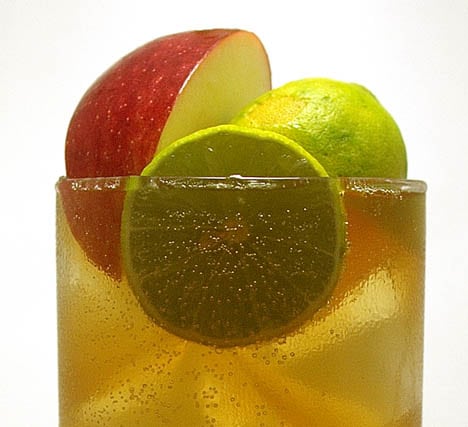 This is one of those drinks that you could really enjoy on a brutally hot summers day. It won't even challenge you manhood because it just looks like a plain old highball. If you need something tropical, try this out. You should be able to find lychee soda in some Asian grocery stores.
This month it is being hosted by Trader Tiki, so when you are done reading here, head on over to read the summary.