A Tales Retrospective
Darcy O'Neil :: July 21, 2008 9:53 PM
As soon as Tales of the Cocktail gets started, it seems it is over. As a friend said, too many drinks makes the nights go by fast. But, most people used their time very well and made the most of the sessions, parties, bars and the city. There are hundreds of posts and comments about the event showing up on the Blogosphere and this is my small contribution to such a big event. This is how it went down for me.
Sleepy, Hungry, Inebriated, but Having a Great Time
The first day was probably the best from a purely entertaining standpoint. Even though I only had two hours of sleep spanning a 41 hour period from 7AM on Tuesday July 15 to midnight (I think) July 16 (Wednesday) I managed to keep moving.
I left home at 1AM (Wednesday) and arrived at the hotel at 2PM-ish. From there it was drinks, heading to different drinking events (blogger reception, Tales reception, party at the Arnaud's French 75 bar). Also the day included hitting a number of bars that I generally liked including the Napoleon House and Jean Lafittes Blacksmith Shop. The main problem for the day was lack of sleep and not eating. I had breakfast and that was it pretty much for the day. Oops. For the most part, a great day.
Thursday started off a little rough, partially caused by Wednesday. I quickly got my stride back and made my way to a couple of sessions (Molecular Mixology and Scented Trail).
I ate a decent breakfast (beignets and coffee). Actually the coffee isn't great, but good enough to deliver caffeine. Lunch was pretty good (jambalaya) at Remoulade, but a bit early (11:15AM), but I was still hungry from the day before.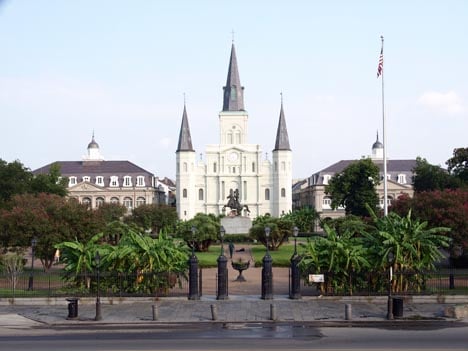 It was the Spirited Dinner night and last year I had a great time with Chef Chris DeBarr that I was really looking forward to it. Well, it didn't work out that way and the restaurant that I was at seem less than enthusiastic about the event and were lacking almost all of the ingredients I requested for the evening. I rewrote my menu on the fly and it seemed to work out ok.
A few other things went wrong, which led to me working and not participating in the dinner. Usually the "Bar Chefs" get to eat, but not me. I'm a professional though and I made sure the paying guest were happy.
At about 11PM I headed out to find something to eat. Most of the good places were packed or closed so I ended up eating some street food. Blah! I couldn't finish it so I made my way back to my hotel room at 12PM and called it a night. That was the second day in a row that I went to bed hungry, in New Orleans of all places!
My goal Friday was not to go to bed hungry. More importantly it was the day of my Sensory Perception session. I spent the morning talking with people and hanging around a couple of sessions. I also did a video with Robert Hess for the Cocktail Spirit. After lunch I decided to lock myself in my room and do some work for my session.
People had been telling me that the sessions was going to be big and I had only stuffed 100 envelopes with tasting strips. They are pain to do, but I decided to pack another 60 envelopes just in cases. Luckily I did because the session was standing room only (150 plus)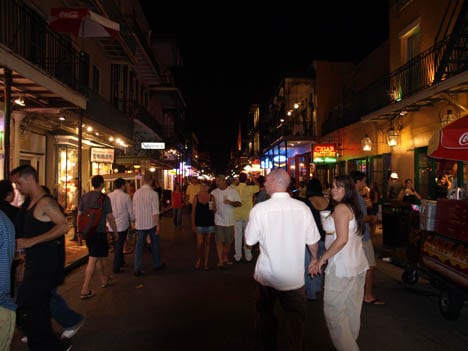 The session looked like it was going to get off to a rocky start. The gin and mix for the cocktails hadn't arrived and Milo (Sapphire mixologist) was stuck in traffic. We also didn't have anyone to mix the drinks. Jamie Boudreau jumped in and said he'd make drinks and Keith Waldbauer (more on him later) jumped in to give a hand. Now, the panel was kind of short by one person so Audrey Saunders suggested Eben Freeman jump in, and he graciously did. So needless to say the session had one of the biggest cocktail brain trusts once you add Robert Hess to the panel. I thank them all for making the session great. Once the clock hit 4:30, it was one of those presentations, that for me, felt very good.
After that I hooked up with the Tiki guys (Craig, Rick, Craig, Blair, Matt) and hit Stella! for some fine dining. I didn't need bigger pants, but I didn't go to bed hungry!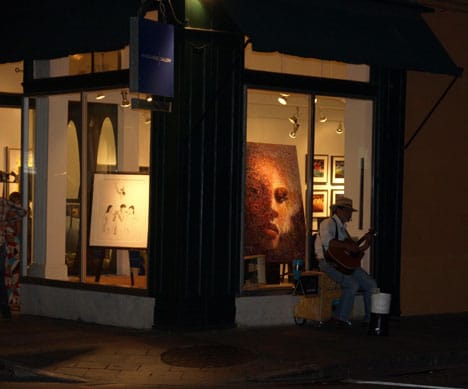 Saturday was more sessions and a brief trip with Jeffrey "Aquaman" Morgenthaler over to the Cocktail Cinema gig. After that we managed to make it to the Garnish session just in time for some Wild Hibiscus Flower drink / garnish. More on that in a future post. I also stayed for the Making Your Own Ingredient session.
My last night in New Orleans was spent having a few drinks. I managed to join Helmut and Paul Clarke for a drink at the Carousel Bar. After a while we headed our separate ways, me to find the sold out Tiki Party. Well, by the time I got there it was over. But Keith was coming out so we decided to try to find others. Keith and I managed to hook up with Gabriel, Joana, Rocky, Morgan and Rob. We ate dinner in some dive bar, which was perfect. Then we went to the Carousel Bar and drank until about 12:30 at which point I called it a night and headed to my room to pack.
Sunday morning was an early flight out so I left the hotel at 8:30. At the airport Gary Regan joined me for the flight to Philadelphia. He was actually on the same flight as I was heading into New Orleans. Gary is, as you would expect, a great guy. I made it home by 11PM.
Coolness Award
Keith Waldbauer gets it this year. He was helping out everyone when they needed help with their session and just being cool and friendly.
Synchronized Swimming Award
Jeffrey Morgenthaler wins this hands down. Nobody was more dedicated to ensuring there was a Cocktail Blogger presence at the pool.