Six Penny Crank
Darcy O'Neil :: August 8, 2008 8:55 PM
When you browse through vintage books, you occasionally come across some interesting drinks. One that caught my eye was a drink called Six Penny Crank from The Vintner's, Brewer's, Spirit Merchant's, and Licensed Victualler's Guide; Containing the history, theory, and practice of manufacturing wines, By a Practical Man (1828). It is more the name, than the actual recipe, that caught my eye. We've heard of flips, swizzle's, smashes, punch, etc., etc. but where did the term "crank" come from?
Well, I can't answer the "crank" question, I just can find a source yet. But, the drink is basically a combination of gin, lemon juice, sugar and beer. A modern day drink named the Skip and Go Naked is very similar. It is basically a combination of beer, lemon juice and gin.
The trick with this recipe is that the instructions are vague at best. Finding proper ingredients wasn't difficult, and a regional brewery (Sleeman's) brews a Fine Porter from a recipe that dates back to the mid 1800's. As for gin, Plymouth makes a lot of sense in this case, since it dates back to 1793.
Now, on a side note about the beer, if you can't find something called a Fine Porter, a stout will probably work just as well. Back during this time period (1828), stouts were called porters. Even Guiness used this term.
Six Penny Crank
1 oz Plymouth Gin
1 Btl Fine Porter
4 tsp Fresh Lemon Juice
2 tsp Sugar
Instruction: Dissolve sugar in lemon juice, combine ingredients, drink.
Flavour-wise this is a pretty decent drink. The gin really works well with the porter. The lemon gives a refreshing acidity, but the beer seems to lingers on your palate for a long while. Best enjoyed on a hot day. Note, don't add too much sugar, this recipe was on the borderline of being overly sweet.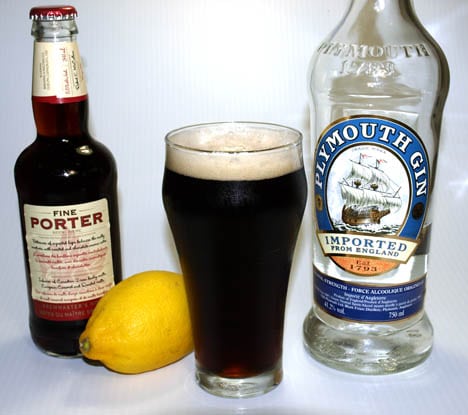 I'd rather order a drink called Sixpenny Crank instead of the Skip and Go Naked, but under the right circumstances a Skip and Go Naked might be fine.