Sailors Fire
Darcy O'Neil :: December 15, 2008 9:16 PM
Ahhh, another Mixology Monday. I was a delinquent last time, so Paul "Dad" Clarke gave me detention and told me I better straighten up and not miss the December edition, otherwise there would be hell to pay. From all accounts, Paul is a nasty task master, so I'm not going challenge his authority. The theme for this edition is "Spice", since Craig (Tiki Drinks & Indigo Firmaments) is a huge fan of the Spice Girls. So in honour of them, and Craig, I give to you an original cocktail creation called Sailors Fire.
As usual I was woefully unprepared for Mixology Monday. My fridge is effectively bare, which means it's grocery time, but not until tomorrow. Even dinner was a fend for yourself night, the fridge was devoid of sustenance. I'm a trooper, so I cobbled together an original creation that was either going down in flames or hold its own.
The only cocktail worthy thing I had in the fridge was a lime and ice, so they were in. Decent start. From there, the options were iffy.
Since it is spice night I had to look through the spice cabinet. Lots of choices, but all to common. Allspice; everyone is doing it. Cinnamon; I've killed that with a dozen cocktails. Cloves; it's not a meat-tale theme! Paprika; Not yet, maybe never. Wasabi powder; hey, that might work.
The spirit choice was fairly obvious. Sailor Jerry's Spiced Rum. After my "Spice Girl" crack at Craig, he might just get technical on me and void my entry since wasabi isn't really a spice, it's a rhizome. So, the Sailor Jerry's is part of the insurance policy, since Paul will get medieval on me if I miss this edition.
The backup singers to this cocktail are passion fruit syrup, rosé wine and a splash of Goldsclager. Yes Goldschlager, that college frat girl drink of choice, plus it's got cinnamon in it so it is spice. Insurance policy part two.
To round out the drink, we add a few drops of, the highly esteemed, Trader Tiki's Falernum Bitters.
Sailors Fire
1½ oz Sailor Jerry's Spiced Rum
½ oz Monin Passion Fruit Syrup
1 oz Lancers Rosé
1 tsp Goldschlager
1 tsp Wasabi Rum Mixture*
4 Drops Trader Tiki's Falernum Bitters
Squeeze of Lime
Instructions: To cocktail shaker filled with ice add all the ingredients, shake thoroughly and strain into a glass filled with fresh ice.
* Wasabi Rum Mixture: ½ tsp Wasabi powder added to 1oz Rum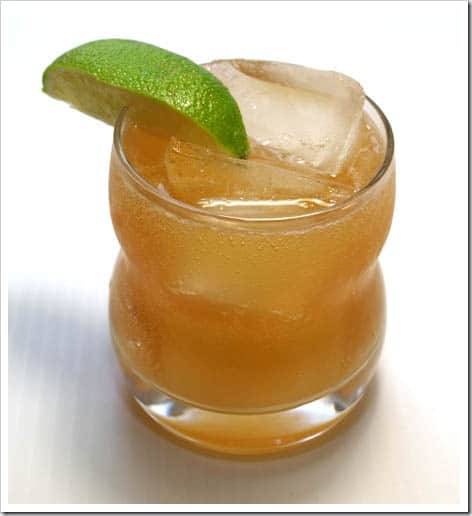 Aside from Caesars and Bloody Mary's, there are few cocktails that work well with Wasabi. This one actually doesn't do to bad. You don't get the overwhelming wasabi kick with these proportions, but you do get that spicy tingle on your tongue. The wasabi spiciness lingers pleasantly. The sweetness of the Passion Fruit syrup, and Rosé, are balanced with the rum, wasabi and lime. All together, not a bad attempt.
In its current incarnation this drink is decent, but with some fine tuning, and a properly stocked fridge, I might be able to make this cocktail sing.