Hoar Frost
Darcy O'Neil :: January 18, 2009 10:09 PM
The term "hoar frost" is usually describes as a cold weather phenomenon where ice crystals form on objects that are below the dew point. The result is that the objects are covered in a sparkling white coat of ice crystals that can be spectacularly beautiful, on a a bright blue winter morning. The appearance of hoar frost is often duplicated on cocktail glassware, using sugar crystals to "rim the glass." In 1934 a Hoar Frost cocktail was created by Adolphe Krieger, and subsequently won the International Bar Mixers' Union cocktail competition in Frankfurt Germany. The rimming isn't a new technique, but I'm going to try "something new" to qualify for Mixology Monday being hosted by A Mixed Dram.
The cocktail is fairly simple to make, but I suspect the part that gave the drink the winning conditions was the "hoar frost". The newspaper article, that describes the drink, doesn't say specifically that the whole glass was frosted with sugar, it might have just been rimmed, but for my purpose I'm going to do the whole glass "to try something new" as per Mixology Monday instructions. Now, this may look cool, but if you work in a bar this could get really sticky, and your dishwasher might hate you eve more, if you start making a couple dozen of these a night.
"Cocktail 1934"
From our own correspondent (BERLIN, Oct. 19)
After 73 mixers from 11 countries had produced 170 different varieties of cocktail, the International Bar Mixers' Union in its rally at Frankfurt chose as "Cocktail 1934" a mixture known by the name of "Hoar Frost." An appearance of hoar frost is given by rubbing the glass with lemon juice and afterwards in sugar crystals. The ingredients are 25 percent each of gin, curacoa (triple dry), and lemon juice, 10 per cent of grenadine and 15 per cent of Jamaica rum.
Hoar Frost Cocktail
25% Gin
25% Curacoa (Triple Dry)
25% Lemon Juice
15% Jamaica Rum
10% Grenadine

Shake with ice and strain into glass.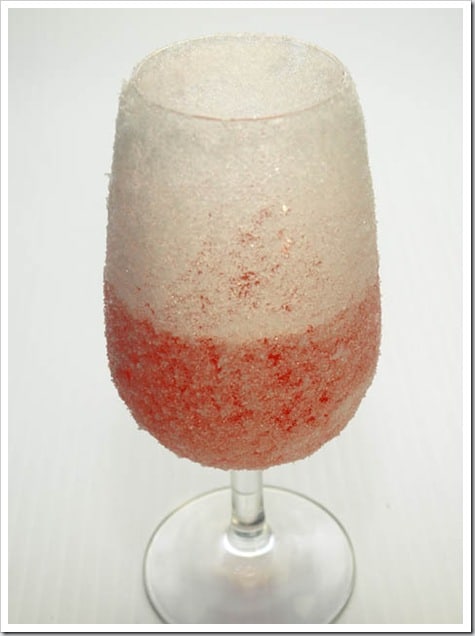 This isn't a bad drink, nor is it a great drink. It has a sweet and sour quality with lots of citrus (gin, triple sec, lemon). The grenadine adds colour and the rum doesn't do much. It's a good drink for those who want to expand their horizons, but still favour a bar sling as their favourite drink. This might get them a little closer to believing gin isn't just pine-needles and gasoline. Could have used some bitters to liven things up a bit. The sugar coating adds a little sweetness, but not much since it forms a sugar-crete type coating that's not easily removed. Apologies to any dishwashers out there.