Rum Shrub
Darcy O'Neil :: February 1, 2009 8:01 PM
The shrub comes in various forms, sometimes brandy, many times rum, sometimes it's a fruit preserve made with vinegar, and of course it can be a small woody plant. But the Rum Shrub was at one point the most popular of the shrubs, save for a period during the mid 1970's when Monty Python took ownership of the word. If the Rum Shrub ever becomes popular again, it may very well represent the unholiest combination of drunken people ordering the shrub, in the vein of a medieval Knight, and a bartender who suddenly develops a series of ticks and anger management issues. Anyone who orders a shrub in the dialect of Monty Python, to said bartender, may be risking life and limb. Here's hoping the Rum Shrub remains in the shadows, because yelling "bring me a shrubbery!" to the bartender is only funny to those who are drunk.
Rum Shrub was an early (1700's, possibly earlier) liqueur / cordial made to hide the "flaws" in early rum. Basically it was a relative of Grog and Bumbo, which served the same purpose. A simple Rum Shrub is made by adding sugar and orange juice, or lime juice, to a portion of rum.
1 Gallon Rum
2 Pints Orange or Lime Juice
1½ lb Loaf Sugar
Basically, a shrub is a flavoured rum with a good amount of sweetness. Pretty much any recipe combining fruit, sugar and rum can be called a shrub. Brandy was also a very popular replacement for rum.
A couple of early recipes that go back to 1830, and probably earlier, from the Publican & Innkeeper's Guide give a decent account of how early shrubs were made.
Rum Shrub: To make this, take sixty-five or seventy gallons of rum; from seven to eight gallons of lemon juice; six or seven gallons of orange juice (both freshly pressed from the fruit); of orange wine, thirty gallons; two pound of the rind of fresh lemon, and one pound of the rind of fresh orange (both pared off as this as possible, and previously steeped for a few days in the rum); one hundred pounds of good white sugar.
Fill up the casks (or puncheons, 120 gallons) with pure and clean rain water; shake them well together. If not sweet enough, sweeten to suit yourself; it too sweet, add more lemon juice. Add then some cinnamon and nutmegs, bruised, and mixed in with one gallon of sweet wine.
Rum Shrub: Take eight ounces of citric acid; four gallons of raisin wine; two quarts of orange-flower water; ten gallons of rum; five gallons of water. First dissolve the citric acid in the water, then add to it the rum; next mix the raisin wine and orange-flower water together, and, lastly, mix the whole, and in a week or ten days it will be ready for drinking, and of a very mellow flavour.
Another shrub like drink was called Liquodilla which I pulled from The Rum Distiller's Manual: For the use of sugar planters. By C.J. Hering (1855). Pretty much the same as shrub, but a more interesting name.
Liquodilla: Take the thin peel of six oranges and six lemons, and steep them in one gallon of rum; close stop for two or three days; then take six quarts of water and three pound of white sugar; clarified with the white of three eggs. Let it boil a quarter of an hour; then stain it through a fine sieve, and let it stand till cold. Strain the rum from the peels, and add the juice of five oranges and seven lemons to each gallon; keep it close stopped up six weeks, then bottle it.
Now, if you want to make a basic rum shrub, cocktail like, it is fairly simple. Here's something I created.
Rum Shrub
1 oz Wray & Nephew Overproof Rum
½ oz Appleton VX Rum
2 oz Fresh Pressed Orange Juice
2 tsp Sugar
1 Drop Lime Oil

In a shaker glass muddle lime oil with sugar until it is completely combined. Add 1oz of overproof rum and mix. In the old days this was referred to as "killing" it. Not sure where the term came from, but it is a method to ensure the "essential oil" doesn't separate in the drink. Next add the water and orange juice, making sure you dissolve the sugar, then add the amber rum, add ice and shake. Strain into a glass packed with cracked ice and garnish with whatever you have. I used zest of an orange.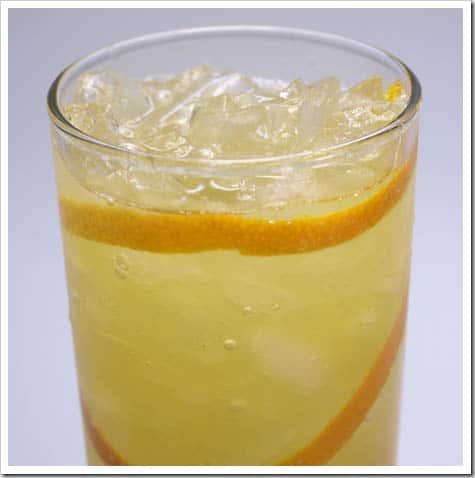 It's not a bad drink, kind of one dimensional, but I'd say it's better than a Screwdriver, only because the rum adds another layer of flavour. But that really shouldn't be surprising since the idea of shrub was to tone down the flavours of bad rum and in this case the Wray & Nephew rum is very good, so it's not particularly useful.
The Rum Shrub is a simple drink (cordial) but historically it was a drink that had over 100 years of staying power. It also was the first real tropical rum drink, which has obviously led to an explosion of very good rum based cocktails, that far surpass the meek Shrub.
Bartenders should be happy to hear this since an onslaught of Monty Python fans should now be greatly diminished.