Tales of the Cocktail 2009
Darcy O'Neil :: July 2, 2009 9:10 PM
As we approach the peek temperatures of summer, thousands of people are boarding planes destine for New Orleans, and its insanely hot temperatures. With humidex factored in, it will feel like 107°F (42°C). To get that many people to go to New Orleans, in July, it must be time for Tales of the Cocktail. The annual event where the best bartenders and mixologists, from around the world, gather to celebrate the cocktail. Every year it gets bigger and by all accounts, this one is looking to be an impressive display of drink making talent. Or is that just drinking talent?
Some writers have described Tales of the Cocktail as "a Star Trek Convention for bartenders". That description might give you the impression it is a bunch of nerds getting together to discuss the nuances of cocktail shaking techniques and why ice cubes made from double distilled reverse osmosis water is better than 10,000 year old glacial melt water.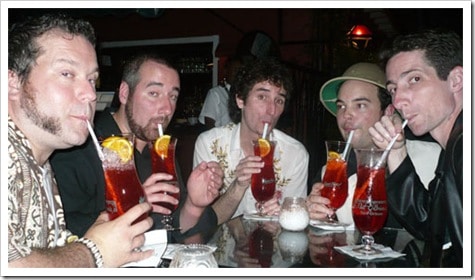 OK, those things do happen, and some people (above) partake of Bourbon Street and don't know when to stop, but hey, that's New Orleans.
The reality is, Tales of the Cocktail is an event that helps bars, everywhere, make better drinks. The attendees get an opportunity to taste and make great drinks, learn the history of them and what new trends are developing. All of this information filters back to bars around the world, and improves the quality of drinks and bartenders.
Sure, there are more bartenders that haven't heard of Tales of the Cocktail, but when the bartender down the street has been to Tales, the oblivious ones may notice business trickling away. Once they grab a clue, they realize that people don't really like powdered sour mix and vodka. Then it becomes a case of adapt or die i.e. better cocktails or lost business.
So what's my role in New Orleans other than sweating, eating beignet and drinking a few Vieux Carre? Well this year I'm presenting Drink's from the 1600's and Sugar: The Science of Sweet. Both sessions are on Friday July 10th at 12:30 and 2:30PM respectively. I've packed both presentations with a ton of interesting information.
If you like drinks and art, the Drink's from the 1600's session will definitely peak your interest. The presentation contains over 100 pictures from the time period, that I've painstakingly dug through, depicting how drinks were enjoyed and consumed. Artists like David Teniers the Younger, Adriaen Brouwer and Adriaen van Ostade took an interest in painting scenes from taverns, alchemists and daily life, which will give attendee's visual insight into what it was like to drink in the 1600's. On the practical side, there are a dozen plus recipes for early drinks like Hippocras, Mobbi, Aqua Absynthii Magis Composita and Lady Malets Cordial Water.
Sugar: The Science of Sweet is going to take a look at how to use sugar in a cocktail. For a long time bartenders thought "more was better", but we realized that doesn't take skill and it panders to the lowest common denominator. The session will first look at why sugar is so prevalent, and ways to fix it. We'll also get a better understanding of different sugars, sugar alcohols, artificial sweeteners and natural sugars/sweetening agents. From there we'll look at acid balance and try a "sweetness blocker".
The second part will look at simple, gomme, and caramel syrup and look at new ways to apply them. The final part is using sugar as a garnish. Most people know the "sugar rim", so we'll be skipping that, and showing you the basic techniques for Pulled and Blown Sugar. Basically, this is glass making with sugar. You can make sugar bubbles with strawberries inside or even create sugar flowers with these techniques. Unfortunately, we can't do a hands on demonstration since we don't have enough time, but the information (and hopefully samples, if they survive the flight, not likely) will get you started. Maybe next year I'll figure out how to demonstrate this live.
There is a tasting component to the Sugar session and if the event sells out, we will see my two Cocktail Apprentices (Blair "Trader Tiki" Reynolds and Ashley Greene) dishing out over 2500 tasting cups in 90 minutes! That's about 28 one ounce pours per minute. That alone should be fun to watch. Michael Glassberg (Swizzle Stick) will be joining me.
This year I intend to post more, I'm always optimistic. I've set up a new picture gallery (Tales 2009) that I should be able to use, even when slightly inebriated. The goal is to post the best pictures I take, every day, for the six days I'm in attendance. Pictures should start showing up Tuesday morning (the current ones are a few from last year).
Other than that, I'll be wandering around, indulging in a few drinks, chatting with people and enjoying the air conditioning of the Big Easy.