Donegall Cocktail (1935)
Darcy O'Neil :: August 27, 2009 9:38 PM
In 1935, the United Kingdom Bartenders' Guild opened a club at Old Compton Street, Soho. For this merry occasion they held a cocktail contest, which wasn't unusual, since they seemed to hold one every year. However, the winner of this cocktail competition would have their cocktail named the Donegall, in honour of Edward Chichester, 6th Marquess of Donegall, who would be attending the ribbon cutting at the new club.
The UK Bar Guild was created to maintain standards among barmen. An honourable goal, and something that is sorely missing in many bars today. But, as professional bartenders have taken up the cause, making it possible to get a drink that tastes like what I would expect.
The Donegall was a drink that has been sitting in the "waiting" pile, due to the use of Aurum liqueur, which is hard to come by. As luck would have it, the LCBO decided to stock a small quantity, mostly in Toronto. Having acquired a bottle of this liqueur, the Donegall moved to the top of my list.
Aurum is made from 10 year old brandy and orange peel. This may sound a lot like Grand Marnier, but the Aurum is decidedly more tangerine like in flavour. Some sources say tea is used in this liqueur, but I can't detect it.
Donegall Cocktail
2 Parts Irish Whiskey
2 Parts Dry Martini
1 Part Aurum
1 Part Maraschino
Combine and stir in a cocktail shaker filled with ice. Strain into a cocktail glass.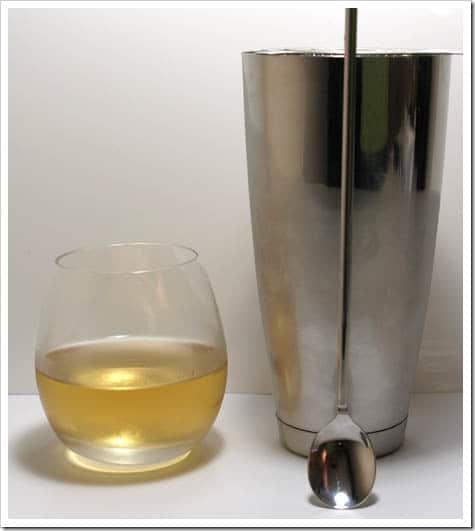 Well, this drink doesn't come across as a contest winner. It's fairly flat, a bit too sweet and lacks character. It's possible the flavours of all the ingredients have changed in the past 75 years, but I don't think enough to change my mind. Making the whisky 3 parts and using ½ the quantity of Aurum and Maraschino might be a better option.
Time to find another cocktail that uses Aurum and hopefully shows it's potential.