Holiday Wish List
Darcy O'Neil :: November 23, 2009 10:41 PM
The giving season has returned and with it comes the onslaught of the annual wish lists and press releases that try to convince everyone that a particular item is a must have do-dad. Most of the time they miss the mark, sometimes there is a gem. But for me, I did deeper and try to find things that people will actually like, well okay, things I like, want and would use. I've taken my cue this year from Simple Plan's "My Christmas List" and I want everything!
Stocking Stuffers
On a budget with only pocket lint and change to spare.
Cap-On Pour Spouts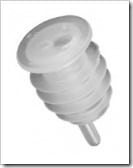 Cap-On's are quite ingenious. They are basically a pour spout that fits inside the neck of a bottle and allows the screw cap to go back on. They also pour like a standard 285-50 pour spout (a four count is actually a four count). They are especially useful for sweet liqueurs like triple sec and Campari since they keep the liqueur off the rim. Now I don't have to wipe the rim or worry about the cap freezing onto the bottle. Not only a convenience, but the gift of time too! Best of all they only cost $0.69 for a dozen Cap-On's.
Under the Pagan Tree
The gifts that keep on giving, or at least ones people will use and not attempt to re-gift.
Difford's Encyclopedia of Cocktails

If you want to have an all encompassing cocktail guide, just in case an ice storm hits and the power goes out, Difford's Encyclopedia is a good choice. This is one of those guides that is a relentless steam of drinks, one after another, non-stop, until you don't remember what happened the night before - it's kind of like drinking with Simon Difford. This organic chemistry sized text-book of drinks contains 2600 recipes, which means you'll need to drink 7.1 cocktails per day to complete in one year. I don't recommend that, consider it a 6 to 7 year Ph.D. program. Price: $29.70
Mint Julep Cups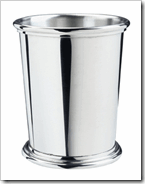 Everybody needs a set of real mint julep cups. The problem is that the julep cup has attained popularity as a decorative centre piece, that's just wrong. If you really want to make the people sitting around a table happy, you'd serve a mint julep in those cups, not a bunch of flowers.
Julep cups come in all price ranges, but I highly recommend avoiding the ones designed for centre pieces. Remember, it's the giving season, so get with the program and look for hand-made solid pewter versions or sterling silver if you really like the person. Price: $40 for pewter up to $420 for silver
Woodford Reserve Seasoned Oak Finish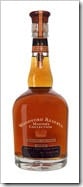 If you are going to buy some julep cups, you might as well put some good bourbon in them. That would be the gentlemanly thing to do. The new release in the Woodford Reserve Masters Collection is made from barrels where the oak staves have been given an extended aging. After the oak wood has been cut, the wood undergoes an aging / curing process which is usually a three to five month process, however for this edition, the wood has been aged for three to five years giving the bourbon a unique flavour profile. Price: $89.99
Sterling Silver Drinks Stirrer
A cheap looking bar spoon makes for a cheap looking drink. If you are going to stir a drink properly, especially in front of a customer, you might as well do it with a little style and class. This hand crafted sterling silver drink stirrer is 16 cm (6¼ in) long and will bring a whole new level of class to your bar, even if it's a "gentleman's club". You can also get it engraved, and I'm sure if it's not long enough the silversmiths will be happy to extend it to meet your needs. Price: $175


Budget Busters
When money isn't an issue, these are the gifts to give.
Sony X-Series Ultra Portable Laptop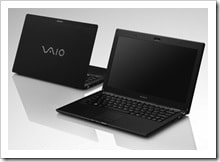 Every blogger needs a good light laptop and the new Sony X-Series seems to be a perfect fit. Weighing in at a mere 1.6 lbs (726 g) this carbon fibre wonder can pretty much go anywhere, including my camera bag. It has enough horsepower to blog (a commodore 64 has enough power to blog), can handle digital photos / video, while sporting a webcam to stay in touch with the family, and up to 17 hours of power with two batteries to boot. This is the go anywhere, do anything laptop I've been dreaming about. Price: $1,499.99
Espresseria Automatic XP 9000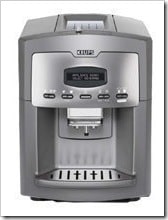 For those mornings when the idea of actually doing something compels you to return to your bed, the Espresseria XP 9000 might just be the solution. This little coffee gizmo is the all-in-one press a button and voila an espresso, coffee, cappuccino or latte awaits you. This thing is even programmable for the quantity of coffee bean used, serving temperature and beverage strength. It will even grind the beans and clean up after itself.
If I was the proud owner of the XP 9000 I'd probably pack it for my Tales of the Cocktail adventures. After a long night of gentlemanly imbibing I'd just mash the control panel with my hand and something caffeinated would appear. It would definitely make the day get started faster. Price: $2999
Kothe EXCLUSIVE Still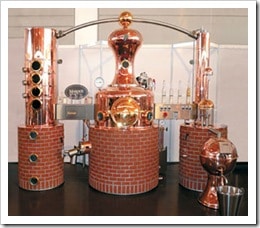 Why not dream big. With a chemistry background and some solid years behind the bar, the obvious choice for my future would be as a distiller. If I forget for a moment the whole Canadian anti-pro-liquor paradox thing for a moment and just let my imagination roam free, I can picture a 20 hectare plot of wilderness encircled farmland with pristine spring water gently cascading over uplifting rocks of the Canadian shield. A few small buildings to house the still and barrel inventory......and now back to reality. The beautifully manufactured, top of the line Kothe Exclusive still used at the KOVAL Distillery in Chicago would fit the bill, but it's a bill that exceeds my piggy bank. Price: $85,000 (not including imaginary wilderness encircled farm)
With that I leave you with this years holiday theme song. Break out your credit cards please.