Reif Estate Riesling (2004)
by Darcy O'Neil on November 2010
A few weeks ago I tried red wine (Yellow Tail Shiraz) as an after shift drink and it failed to impress. This week I'm trying some white wine (Reif Estate Riesling) because I have a bottle of it. While I was picking up some items at the LCBO I decided to grab a bottle of wine. I had heard some good things about Reif, which is located in the Niagara region of Ontario. I decided on Riesling because it is a good grape when grown in colder regions, and who's colder than Canada. The price was modest and affordable so it was an easy pick. So does white wine fair better than red wine after a night of bartending?
Reif Estates Background: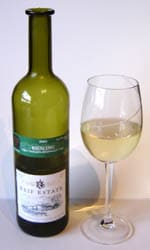 The Reif family started making wine way back in the 1500s in Germany. In 1977, the 13th generation of the Reif's winemakers emigrated from Germany, to the Niagara region of Canada, to practice wine making. Today, Reif Estate Winery's has 135 acres of vines produce a variety of wines such as Chardonnay, Riesling, Gewürztraminer, Vidal, Seyval Blanc, Pinot Noir, Cabernet Sauvignon, Merlot, and icewines.
Reif Estate Winery opened in 1982 with a commitment to combine time-honoured tradition with modern technology. Wines produced at Reif are truly estate bottled and they do not use grapes from other vineyards. There wines are aged in authentic oak casks in underground barrel cellars Klaus W. Reif, President of Reif Estate Winery has a degree in viticulture as well as oenology.
So, here is what I though of their 2004 Riesling.
Tasting Notes:

Colour: Pale straw
Nose: Light with floral hints, slightly fruity
Taste: Citrus, lemon with hints of fruit. No oak in this wine. Crisp clean finish.
This wine is subtle and serving it to cold will definitely dull the flavours. It is a nice wine that would compliment your traditional wine pairings, like chicken and Alfredo pastas. The only down side is that it maybe a little to citrus in the flavour.
As for having a glass of this after work, it does much better than the Yellow Tail Shiraz. Because of the crispness of the wine, it quenches ones thirst and leaves a clean palate. I still believe wine goes best with food and this would be a very decent table wine to accompany a good meal.