Blue Lagoon
by Darcy O'Neil :: [Cocktail ]
Blue Lagoon
1 oz
½ oz
2 oz
1 oz
Instructions
Build in glass and garnish with an orange slice.
Related Posts
One area where this site has a glaring weakness is the photography. Most of the pictures on this site come from stock photographs, provided by the company making the product, or are taken quickly and without much thought. I shake up a cocktail, run outside, snap a photo and run back inside. Pretty boring stuff. Now Rick over at Kaiser Penguin knows how to take pictures and that has inspired me to do better for this site. So with a little effort I have built a light box to help with the photographs. If I was a carpenter I would have starved to death a long time ago, but I'm not taking pictures of the light box, just what's inside. OK maybe I'll take one picture for this post. So why is this post titled Blue Lagoon? Well, because I wanted to take a picture of something that was quick and had some colour. So I took a picture and included the Blue Lagoon recipe.
Many years ago I worked at Imperial Oil Research in the customer service lab. It was our job to perform analysis on used lubricants and the equipment running said lubricant. Many times we would get shiny metal parts to work with, and one requirement would be to take a photograph, to attach to the report. For anyone who doesn't do photography, taking pictures of reflective items is very hard, because you get "hot spots" or "flares" that obscure what you want to look at. Basically a flare is the reflection of the light off the metal. To reduce this effect you can use a light box, which creates an even level of light around the object. This even light allows you to capture all the splendid colours in great detail. Our light box at Imperial Oil worked great and the only problem was that you could see a reflection of the camera on the metal. Sometimes you just can't win.

I have some photography experience, but I haven't done anything since I left Imperial Oil. With a little guidance from Rick, I built a light box out of wood, white felt and a couple of desk lights, with 4100K compact fluorescent bulbs, to help with my photography. I'm not going to go into a lot of detail because there is a link to a well written article about light boxes on Kaiser Penguin. Now the light box looks ok in the picture, but trust me, nothing is a 90° angle in that box. And that white flare on the front of the bottle comes from the second light I used to illuminate the box.

Now the Blue Lagoon is sold mostly because of it's colour because it tastes like lemonade with a kick. Colour was what I wanted for this photo, so a Blue Lagoon was quick and simple. So how do you make a Blue Lagoon? It is quite simple.

Blue Lagoon Drink Recipe
1 oz Vodka
½ oz Blue Curacao
3 oz Lemonade or Bar Sour

Build in glass and garnish with an orange slice.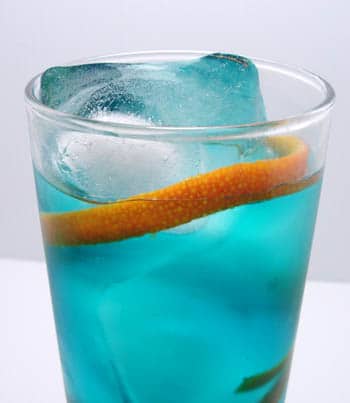 The light box will help me with getting good photographs for this site and will also help the progress of the Cocktail Database I've been working on. I want the cocktails to look good, so I halted the development until I could take decent pictures. Now that I can do that, or will get better with a little practice, it should start to progress quicker. Once there are some drinks with pictures I'll post some links.
Notes:
4 Comments on Blue Lagoon
this is fabulous--I am loving the lightbox and its results. looking forward to the recipes and pictures
I've only been reading for a little while (2 or 3 months) but I've gotta say the new logo and the first samples from the lightbox are pretty damned spiffy. I raise my gin and tonic to you, and look forward to more nifty new things.
Thanks for putting an effort into the site even more so. I always enjoy when someone gives that extra push, and we all appreciate your effort. It makes it that much better to read, and I know it will be good. Keep up the fantastic work!
Back to Cocktail List