Few people know the difference between these two drink because they both contain gin, lemon and soda water. Some people throw the Gin Rickey into the equation to make things even more confusing. Just for the record, Gin Rickey's use lime in place of lemon and sugar is optional. The Tom Collins and Gin Fizz are both good refreshing drinks that are usually served in the summer. Basically, they are fizzy gin flavoured lemonade. So what is the difference between the two drinks?
The Gin Fizz stems from the 19th century and is a "sour" based cocktail with the addition of soda water. When soda water became widely available and popular, bartenders obviously used it to provide new tastes and experiences for their guests. The nice thing about soda water is that it is effervescent and helps to release the aromatic aromas from the gin, or whatever spirit you are drinking. By taking a basic gin sour and adding the soda water, this cocktail became a new and interesting variation. Well at least in the mid-1800's.
The Tom Collins is very similar to the Gin Fizz but here are the differences. First, the original Tom Collins is technically made with "Old Tom Gin" which is a nickname for a sweetened variety of gin (Genever Gin). The history of the name Old Tom Gin isn't very clear, but this sweetened gin was a key ingredient in the Tom Collins. Also, the Tom Collins is served with ice in a 12 oz glass, whereas the Gin Fizz is served in a smaller glass (8 oz) without ice. One other difference that is historically noted is that Gin Fizz' are made using a soda syphon because it creates small gas bubbles.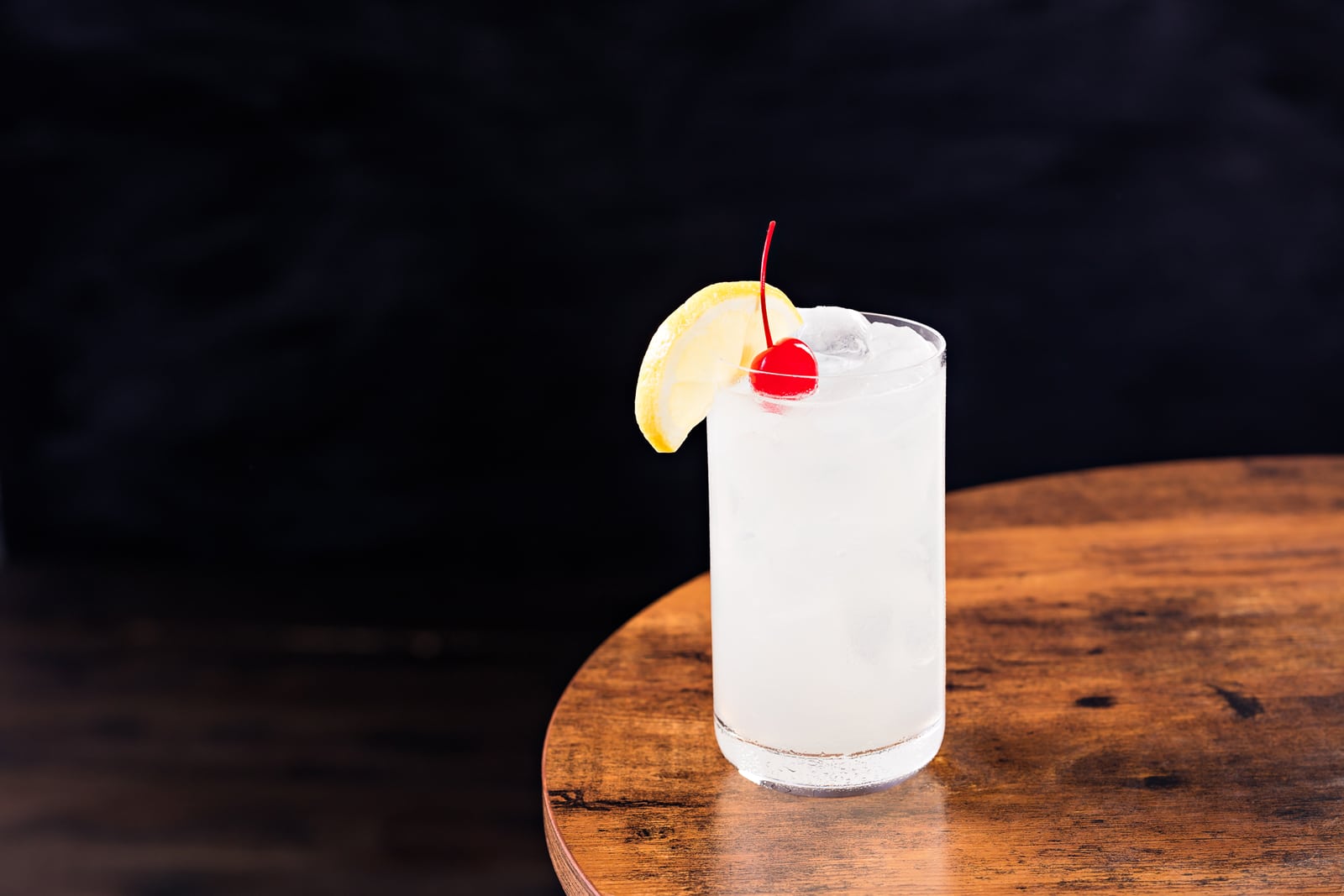 Currently, I don't think that many bartenders actually make a differentiation. This opinion is because most bars don't worry about the little details and most bar customers wouldn't know the difference. Old Tom style gin still exists, but it is very hard to find. The general trend these days is bigger is better, so bars with 8oz glasses seem to be hard to find. Some bars may still have soda syphons, but most probably don't use them for their function, instead they are "bar art" sitting on a shelf collecting dust., If you order a Gin Fizz or Tom Collins today, you'll get it in an ice-packed 12oz or larger glass with commercial sour mix and soda off a gun.
If you do know a good bartender, you might try ordering some of the variations of the Gin Fizz. For example, a gin fizz shaken with an egg white becomes a Silver Fizz and when it's shaken with an egg yoke it becomes a Golden Fizz. The use of a whole egg makes the cocktail a Royal Fizz. When you substitute Champagne for the soda water it becomes a Diamond Fizz and if you add a dash of green creme de menthe to a Gin Fizz it becomes a Green Fizz, surprise, surprise.
The Gin Fizz is a good drink when made properly, but personally, I lean towards the Silver Fizz for it's better texture. Historically, these drinks are all based on the Lemon soda, which started the whole fizz category in the early 1800s. The ultimate fizz is the Ramos Gin Fizz, complicated to make, but so delicious.
Further Reading: Gin and Tonic