Monty Python Holy Grail Ale
by Darcy O'Neil on July 2011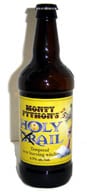 While I was perusing my local liquor store I came across Monty Python Holy Grail Ale. How could I not pick up a bottle or two of this beer. Monty Python made me laugh many times so I felt obligated to at least try the beer. According to Black Sheep Brewery, Holy Grail Bitter was specially commissioned to commemorate the 30th anniversary of Monty Python. They describe it as a distinctive taste with plenty of fruity hops, and is full flavoured with a dry and refreshing bitterness.
After trying a bottle of the Holy Grail Ale, I would agree that the product is a standard British bitter. The only thing spectacular about the product is the label. I found the beer to be rather dry with a nice bitter finish. It is probably better served warm, but for some reason I put it in my fridge.
This product is more novelty than serious beer. But that's OK, what else would you expect from the Monty Python crew. It is worth the three dollars to pick up a bottle just to say you have one.