When you go down a research rabbit hole you can make some surprising discoveries. It started out as research on the history of the milkshake, which took a turn to why Rhode Islanders call a milkshake a cabinet. This led me to an online restaurant/bar menu database at the New York Public Library. Some of these menus go back to the 1850s, but there are only 22 menus from that period, though one caught my eye and a lot of other people's eyes as well.
Mart Ackerman's Saloon (1856) jumped out right away. On the first page of the menu, I noticed that this was a Toronto saloon and during this time period Toronto wasn't really known for drinks, and only had a population of 30,000 people and this menu was published 7 years before Jerry Thomas' book.
The menu is in great shape, and the mixed drink list is substantial, and progressive, compared to anything else in the 1850s, and it has interesting names for drinks, like the Omar Pasha Cocktail, Hen Fruit Cobler, Young Canadian Punch, Ladies' Fancy Fix, Chochin China Smash and Dr. Green's Anti-Dyspeptic Bitters. Reading the menu, you can see there was a passion for drinks. David Wondrich has a few paragraphs on this menu in his book Imbibe as well.
At first, I wasn't sure if the 1856 date (hand-written on the menu) was legit, the menu looked more modern than the 1850s, so I did some research because taking something from the Internet at face value isn't always wise.
Mart Ackerman's Saloon did exist at that time and was open in the summer of 1855 as a saloon and billiards hall, it operated for roughly 4 years and was closed around July 1859 and offered for lease by the owner of the building, one John Hutchison who owned Hutchison & Company. The menu, nor the newspaper advertisement give the exact address, only Wellington Street which stretches for over 3 kilometres. That is a lot of space. But, using a few research tools, I managed to locate the location of the Mart Ackerman saloon.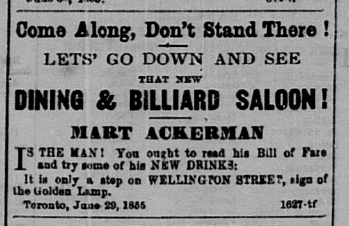 The ad in the Globe & Mail:
Come Along, Don't Stand There!
Let's Go Down and See that new
Dining & Billiard Saloon!
Mart Ackerman
Is the man! You ought to read his Bill of Fare and try some of his new drinks.
It is only a step on Wellington Street, sign of the Golden Lamp.
Toronto, June 29, 1855
Another mention of the saloon was on May 12, 1855 in the daily brief section: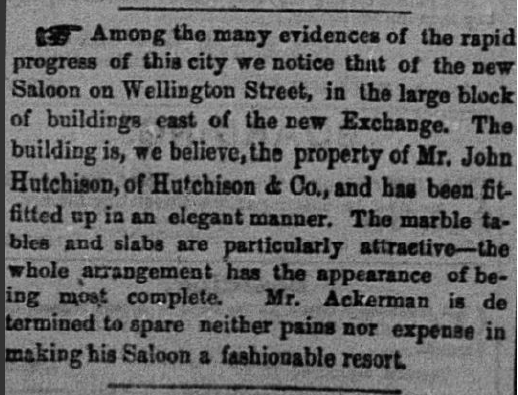 Among the many evidences of the rapid progress of this city, we notice that of the new Saloon on Wellington Street, in the large block of buildings east of the new Exchange. The building is, we believe, the property of Mr. John Hutchison, of Hutchison & Co., and has been fit-fitted up in an elegant manner. The marble tables and slabs are particularly attractive—the whole arrangement has the appearance of being most complete. Mr. Ackerman is determined to spare neither pains nor expense in making his Saloon a fashionable resort.
The Lennox Lane Mystery
Doing broad searches in newspaper archives can often bring up little clues that help to further identify things. In this case a murder investigation brings mention of Ackerman's Saloon during testimony:
Elias A. Jones, omnibus proprietor—About half-past ten o'clock on Saturday night, I was in company with Mr. Carpenter, detective officer. When opposite Ackerman's Saloon, we heard someone call out "Oh! oh!". The cries appeared to come from the corner of Church and Colborne streets. When I heard the cries I listened, and I heard some oaths, and expression like "Give it him." [sic] Mr. Carpenter said "that's a row," so we ran down to the corner of Church and Wellington streets. On looking in the direction of Colborne street, we saw some one slam a door to, on the west side of the street. Two or three persons, one of them with a light coloured coat, walked up the street from the place. Mr. Carpenter and I then returned to Ackerman's. When we got to Church street all was still.
Having all this information I can point us to the block where Ackerman's was located and it was on the north side of Wellington Street between Scott Street and Leader Lane east of the Exchange. My guess is 26 Wellington Street. And if you look south on the map down Church Street you'll see the location of Rorst & Company Distillery.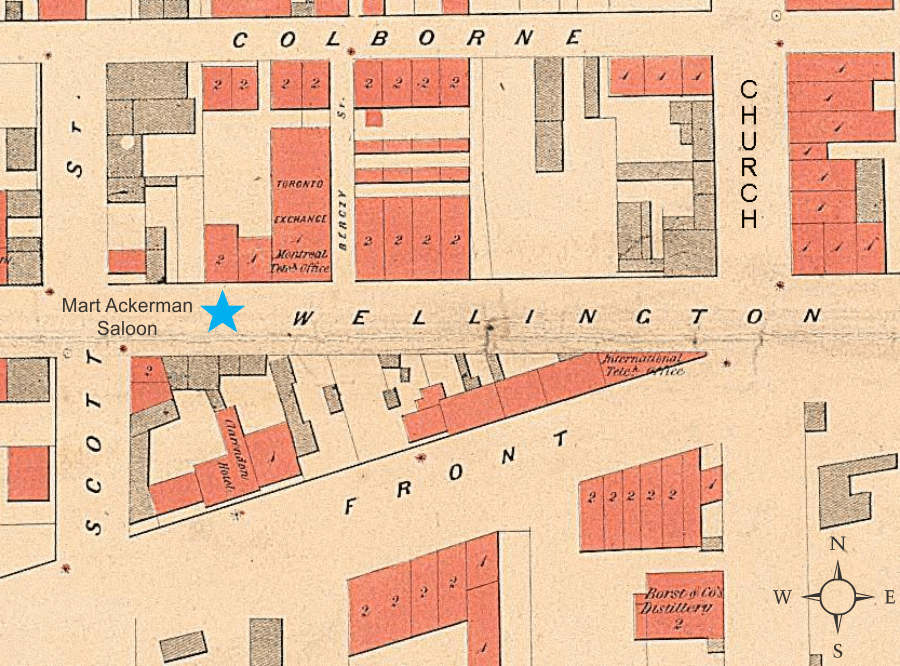 The building no longer exists, it is a large, modern building with a wealth management company and the United Way in the spot closest to where the saloon would have been. But that is what progress does.
Jerry Thomas may have been my spirit bartender before, but I think Mart Ackerman might take his place. And if there are any Toronto bartenders looking for a pop-up idea, may I suggest a Mart Ackerman Saloon pop-up. I'll start with an Omar Pasha cocktail, thanks. You can view the full menu online at the New York Public Library.