So there I was, lying on the Chesterfield in an unambitious state, on a Sunday afternoon, thinking I should be doing something other than vegetating and watching TV. Mixology Monday, being hosted by the Liquid Muse, was on my mind because I had yet to come up with a good food and cocktail pairing. True to form though, I always leave my topic for Mixology Monday to the absolute last minute. Procrastination is so rewarding! Anyway, I was watching the Food Network and one of my favourite programs came on—Good Eats. Alton Brown has provided the inspiration for today's Mixology Monday, pretzels. Now I just need a cocktail to go with them.
Alton gave a good rundown on how to make those big, soft, chewy and tasty pretzels, he even started to explain how pretzels get their nice brown colour; sodium hydroxide (aka NaOH or lye). He didn't finish explaining how to use it and decided to use another process, but it gave me enough info to dig it up on the good old Interweb.
Now, I work in a lab and I've handled, literally, tons of sodium hydroxide. Really, at one chemical plant I previously worked at they'd get 1000 litre totes of the stuff and I/we used it to neutralize hydrochloric acid in an end product and to pH balance wastewater. So I'm very comfortable handling the stuff. Safety glasses people! The sodium hydroxide basically breaks down the starch chains in the flour and creates sugars that are easily caramelized in the oven. See recipe at the end.
Now that I've decided to make pretzels, what kind of cocktail will go well with them? Beer usually works very well, but this is Mixology Monday, so a cocktail is a must. The one key characteristic of pretzels is the saltiness. Those big course chunks of salt that light up your taste buds are what most people like about pretzels. So what cocktails go well with salty food?
Obviously, the martini seems to works well, since the Dirty Martini has become the blood pressure jacking drink of choice for many people. But, obviously, we don't want to have a salty drink with salty food, it would just result in medical expenses and a plain old martini is rather boring.
In the past, I've done a little research on how certain tastes effect one another. The most obvious example is the balancing of sweet and sour. It is the primary combination used in cocktails. But did you know that saltiness reduces bitterness? If you've ever had a Salty Dog (Grey Hound (vodka grapefruit juice) with a salt rim) then you've seen this principle in action. That means something bitter should go well with a big salty pretzel.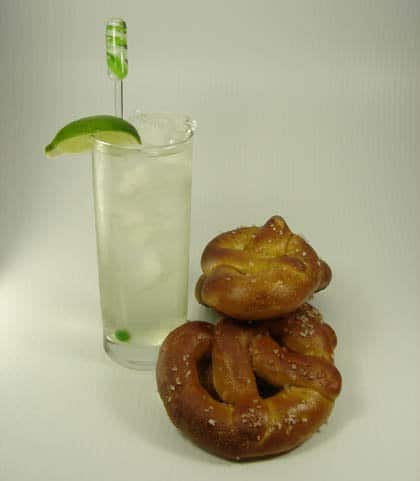 Instead of just finding an already prefabricated cocktail I'm going to test my luck and create one from scratch. I've decided that this will be a fizz/highball style drink because pretzels lend themselves to sitting on the Chesterfield watching hockey, so one drink needs to last at least a period (20 minutes plus commercials).
I've often heard people describe Perrier as being slightly salty, which it is, so that is being used as the Fizz part. Next, Green Chartreuse is the bitter element of the fizz. I was thinking that whisky or gin might be a good base spirit to work with, but then I spotted a bottle of Bols Jonge Dutch Gin (Genever) that Philip Duff (Bols) so graciously gave me at Tales of the Cocktail. This gin has the aroma of grain spirit and will let the Chartreuse come through, but the gin will still play its part. If you don't have Bols Jonge, just use a light gin or a 50/50 gin vodka mixture. For sweetness, I added a bit of Maraschino liqueur. Finally, a dash or two of Regan's Orange Bitters just rounds things out.
Light Green Fizz
1 oz Bols Jonge Gin
¾ oz Green Chartreuse
¼ oz Maraschino Liqueur
Dash Regan's Orange Bitters
Top Perrier or Club Soda
Instructions: Add first four ingredients to a highball glass packed with ice and top with Perrier. Garnish with a lime.
Before you eat the pretzel, take a sip of the Light Green Fizz and take note of the bitterness. Next, take a bite of the pretzel, masticate, swallow and then sip the Light Green Fizz again. You'll notice that a lot of the bitterness is gone and the drink takes a lightly sweet character plus the flavours of the Chartreuse come through very nicely. The other thing that works well here is that the perceived sweetness of the Light Green Fizz compliments the sweetness of the pretzel bread.
Pretzel Recipe
Preheat Oven to 525F
Makes 8 big pretzels
1 tsp Active Dry Yeast
¼ cup Warm Water
1 cup Warm Milk
Pretzel salt (coarse salt)
2 Tbls Brown Sugar
2½ cups Flour
Sodium Hydroxide (Lye) Bath
40 grams Sodium Hydroxide Pellets
1 litre Warm Water
1. Dissolve yeast in ¼ cup warm water, let sit for 3 to 4 minutes
2. In a small bowl, stir together 1 cup of milk, brown sugar and yeast
3. In a large bowl place the flour and slowly add the liquid, gently mixing
4. Mix until the dough is formed, slightly sticky, not dry
5. You can add more flour or liquid to get the right consistency
6. Let dough rest for 30 to 60 minutes in a warm place
7. Punch down the dough and portion it into 80-gram portions (8 pieces)
8. Roll portions into long "worms like" shapes, about 20 to 24 inches long
9. Make into a pretzel shape and place on parchment paper on a cookie sheet
10. Let pretzels rise for 5 to 10 minutes
11. Caution: for the next step wear gloves and safety glasses
12. Prepare Lye bath by dissolving sodium hydroxide in water
13. Dip pretzels in a bath for 5 seconds, making sure the whole pretzel is wet
14. Place back on parchment paper and put in the oven
15. Cook for 10 to 15 minutes
16. Cool and enjoy.