Mint is one of those flavours that has two parts, one being a slightly sweet flavour, the other being a ";cooling sensation" when you drink a cocktail made with mint. For me, the flavour is good, but the cooling effect is what makes mint based drinks special, like the Mint Julep and the Mojito. On a hot summer day this cooling sensation helps us perceived these cocktails as a refreshing drink that takes the edge off the heat. The other great thing about mint is that it is a very ";clean" spice that doesn't leave a bad aftertaste and actually freshens your breath up. All of this from a simple weed. Yes, if you grow mint it acts like a weed and will quickly take over your garden and possibly your yard. The only solution is to have a big party and make Juleps and Mojitos. After a while you will need a few additional recipes to keep people coming back so for your drink pleasure I present the Mint Divine and the Centaur.
The Mint Divine was a cocktail I came across in a summer edition of the LCBO Food and Drink magazine. The drink combines two great summer ingredients, one being mint of course and the other being lemonade. A nice glass of cold lemonade on a scorching summer day is a welcome sight, but if you add some mint and Canadian whisky, it becomes divine.
The recipe calls for Canadian whisky because this drink is supposed to be light and refreshing. Using bourbon might not work so well with the lemonade, in a refreshing manner, so using Crown Royal or Gibsons would work very well. The other option is to use sour mix instead of lemonade, and I mean fresh sour mix. Simple squeeze 2 oz of fresh lemon juice and add two ounces of simple syrup. If it's too sweet and more lemon juice and if it's to sour add more simple syrup. The only other thing I might do is add an egg white to give it that whisky sour effect. This probably not a good idea during the day, but in the evening it would probably be a nice edition.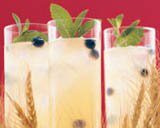 Mint Divine Cocktail
1½ oz Canadian Whisky
6 torn mint leaves
4 oz lemonade
In a cocktail shaker filled with ice, add Canadian whisky, torn mint leaves, and lemonade. Shake well and fine strain into a Collins glass filled with ice. Garnish with fresh blueberries and a mint sprig.
The Centaur Cocktail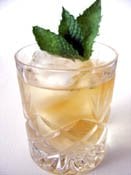 The other drink for this edition of Mixology Monday is a rehash of a previously posted recipe for the Centaur cocktail. Why am I rehashing this? Because it's a great cocktail that deserves more attention and it just happens to include mint. The basis for the Centaur is the Mojito, except in place of rum, cognac is used, instead of soda water, ginger ale is used and instead of lime, we use lemon. That's the original recipe and it is a great tasting alternative to the Mojito.
The only modifications I like to make is to use Metaxa, which is a Greek brandy that has additional herbs and spices added from a secret botanical mix. I find that the flavour profile of Metaxa works well in this drink. Also, the Centaur is a mythical Greek creature, so a drink named the Centaur should have some Greek connection. The name for the drink actually originated from Remy Martin Cognac since their logo is the Centaur.
This month's Mixology Monday is being hosted by Kaiser Penguin.