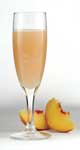 After a New Years Eve party and all the drinking and champagne, the following morning can be a little rough. Even if it was a quiet, stay at home night, you should at least bring in the new year with a drink and a toast. For both reasons, the post-party and New Year's day toast, champagne or sparkling wine is the way to go. The leftover champagne can be used to make a Mimosa or a Bellini. Both are an excellent way to start a new year.
[wp_ad_camp_3]
The Mimosa is a classic morning drink made with sparkling wine or champagne. Those leftover bottles from New Year's Eve can be used for breakfast or brunch cocktails. It's okay to drink on the morning of New Year's day, it is a celebration of a new beginning and any new start should be toasted.
Many people make a Mimosa will just orange juice and sparkling wine, however, this is originally called Buck's Fizz created by Mr. McGarry at Buck's Club in London, England in 1920. This is a great drink, but by adding a little Cointreau or triple sec, your drink will taste that much better. Why skimp on the first day of the year?
New Years Cocktails
Mimosa
1½ oz Fresh Squeezed Orange Juice
½ oz Cointreau or Triple Sec
Top up with Champagne or Sparkling Wine
Add orange juice and Cointreau to a champagne flute and stir to mix. Fill glass with chilled champagne or sparkling wine.
The Bellini is a drink similar to a Mimosa but made with white peach puree. This drink was created by Giuseppe Cipriani at Harry's Bar, Venice, in 1934. The drink was named after an artist from the 15th century (Giovanni Bellini). The Journal of Mixology has a great article by Lowell Edmunds about the history of the Bellini.
To make a Bellini is relatively simple. You need Prosecco or any dry sparkling wine and peaches. If you don't have white peaches, which can be hard to find in some places, you can use a regular peach to make this drink. To make the puree, simply remove the skin and pit from the peach, slice it into quarters and put it in a blender. Add a teaspoon or two of sugar, per peach, and the juice from a lemon, which helps prevent discolouration, otherwise your peaches will tun brown. Follow the recipe below and you will have a great start to the new year!
Classic Bellini
1 Part White Peach Puree
2 Parts Prosecco Sparkling Wine
Place peach puree into a champagne flute and top up with Prosecco.
Modern Bellini
2 oz Peach Puree
½ oz Peach Schnapps
¼ oz Lemon Juice
Top up with sparkling wine.
Stir the first three ingredients in a shaker with ice to chill. Strain into a champagne flute and top up with sparkling wine.
[wp_ad_camp_1]
If neither of these cocktails aren't to your liking, you can always stick with two classic brunch cocktails, the Caesar or the Ramos Gin Fizz. I hope every one has a great new year.
Hangover Advice
If you happen to be, or think you will be, suffering from a hangover, check out these hangover tips.